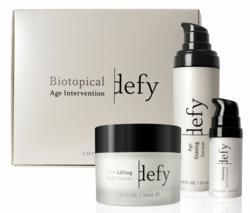 The enormous potential of bioactive substances is made clear in the TNI Defy Age Intervention System, which can produce incredible, immediate, and perceptible results
Provo, UT (PRWEB) March 16, 2012
Tahitian Noni International (TNI) received the Worldwide Direct Selling Award for Best Wellness Product from the Obtainer Media Group for their biotopical line–the Defy Age Intervention System. The Obtainer Award for Product Innovation and Performance–Best Wellness Product is awarded to companies with a strong and effective core product range, and recognizes outstanding product performance.
The Obtainer Worldwide Awards consist of 13 categories, and were created to recognize excellence and outstanding achievement in the Direct Selling industry. The selection jury was comprised of senior members of the Obtainer Media Group editorial team.
Obtainer wrote, "The focus of TNI lies in the bioactivity of their products. By definition, bioactivity is the effectiveness of biological ingredients on living tissue. The enormous potential of bioactive substances is made clear in the TNI Defy Age Intervention System, which can produce incredible, immediate, and perceptible results."
Defy was released in 2011, and is a revolutionary system designed to help reverse the top signs of aging, including fine lines and wrinkles, sagging skin, dry skin, rough texture, age spots, dull tone, and dark under-eye circles. The line includes the Defy Face Lifting Night Cream, Defy Age Erasing Serum, Defy Renewing Eye Treatment, an Ultraderm Therapy device, and a Microderm Treatment device. In 2012, adding to the great collection, TNI recently released two new products: Defy One-Step Cleanser and Defy Triple Action Toner.
All Defy ingredients have been naturally sourced, are paraben free, vegan friendly, hypoallergenic, have been created for all skin types, and are safety and dermatologist tested.
For more information about the new Defy Biotopical Age Intervention System, please go to http://www.tni.com/defy.
About the Company
Tahitian Noni International (soon to be Morinda Bioactives in April) is a global, research-driven bioactive products company that was the first to introduce the health benefits of the noni plant—a bioactive-rich, adaptogenic plant, containing iridoid compounds—to the world outside of Tahiti. Tahitian Noni International is the leader in the discovery, development, manufacturing, and marketing of noni-based bioactive products including nutritional supplements, beauty, and weight loss lines. Headquartered in Provo, Utah, Tahitian Noni International is the world-wide leader in bioactive supplements.