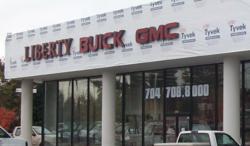 Our customers love their trucks," says Scott McCorkle, owner at Liberty.
(PRWEB) March 16, 2012
Truck Month at Liberty Buick GMC Trucks is half way over, but the deals last through the end of March. Customers who are interested in the deals available on trucks have just over two weeks to come into Liberty Buick GMC Trucks. The Ides of March, or the 15th, has long been famous as a date to be wary of, but Scott McCorkle at Liberty Buick GMC Trucks in Matthews, N.C. just sees it as two more great weeks to offer the best deals on new and used trucks in the Carolinas and beyond.
"We love truck month," says McCorkle. The staff at Liberty are all great fans of all the GM products on the lot, but trucks are a favorite. So much so that there's a whole month devoted to it.
"Our customers enjoy their trucks," says McCorkle. "It's rare to see someone quite so excited as they are when they get a new truck or car."
Liberty is offering the best deals around on trucks and other vehicles this month. Qualified buyers receive a zero percent rate for 72 months – incredible! And $2000 back on qualified trade-ins.
Liberty offers a huge selection too. Finding the right vehicle means more than just looking for the particular model and features that a customer is interested in buying. A good dealership has to have a large inventory. Liberty maintains a huge inventory and it can because it sells so many cars. McCorkle says that's easily explained by the red carpet services they provide. "We offer red carpet treatment before, during and after the sale. It makes the difference," says McCorkle.
Indeed, McCorkle is known for his incredible service. Customer testimonials remark on the outstanding knowledge that the staff at Liberty has about all the products, the no pressure sales style and the great selection. One customer commented that to find the truck that he wanted the team worked overnight! Another customer says, "I can't say enough good things about the service department at Liberty!"
Trucks are a part of the American dream. We haul pine straw and bark chips for our yards. We buy assembly required toys that would never fit in a back seat. We clean out our garages in the spring and haul away all the junk. We pick up other people's junk on curbs and take it home to refinish. We pack teens off to college and we pull our boats to the beach.
It's truck month at Liberty Buick GMC Trucks. Want to do some hauling? Come take advantage of the incredible savings and selection at McCorkle's dealership. Spring is in the air and it's time to get on the move. Come by the dealership or call 866-442-0871 or visit the website today at http://www.clickliberty.com.