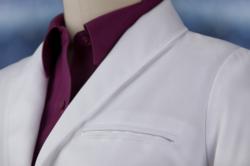 I'll never look frumpy again!
San Clemente, CA (PRWEB) March 15, 2012
The author, artist, critic, and biographer, Quentin Bell, once stated, "Our clothes are too much a part of us for most of us ever to be entirely indifferent to their condition: it is as though the fabric were indeed a natural extension of the body, or even of the soul." Medelita®, a fashion-forward pioneer of medical apparel, reflects this sentiment in their commitment to providing high-quality, gender-specific performance lab coats and scrubs to medical professionals.
Continuing a tradition of designing exceptional and innovative garments, Medelita has officially launched their newest lab coat designed and tailored for women - the Emma W. lab coat. Best described as elegant and refined, the Emma W. lab coat is unique in its design, with traditional side vents, flattering loose button-detail back belt, waist detailing, and a blazer-style, functional chest pocket. Slimming vertical princess seams and pleating below the bust complement all figures, but it is the rounded tuxedo style collar that truly sets the Emma W. lab coat apart as a stylish lab coat.
Prior to official launch, Medelita asked female customers to test the Emma W. lab coat. The reviews after several weeks of daily wear exceeded even the company's expectations in their honest and glowing assessments.
"When I wear my Emma W., my colleagues have commented that I look 'sharp,' 'svelte,' 'respectable,' and 'professional.' The fabric is of the highest quality and has a subtle texture that distinguishes Medelita jackets from all the others. Even with weekly washings, the fabric still looks fabulous. My busy schedule doesn't give me much time, so I wanted jackets that didn't require ironing. The Emma W. fits the bill. Even if I feel frumpy on an ER night shift, I'll never look frumpy again!" - Elizabeth N., MD
"This is my third Medelita lab coat and my new favorite! From the lovely nipped-in waist to the smart slit chest pocket detail, everything about this coat is a mix of elegance, comfort and professionalism. I really like that the coat flares out a tad from the waist--very flattering and slimming especially for anyone with a curvy shape. The lapel is quite modern and sleek- my husband actually asked if it was a suit jacket! The fabric is soft, flexible and dare I say, quite cozy. It's 180 degrees from the tissue- paper thin, scratchy, stuffy polyester rectangular lab coats we have all suffered through." - Charlotte L., MPAS, PA-C
Lightweight and comfortable, the 100% pre-shrunk peached cotton fabric of the Emma W. lab coat resists wrinkling and is distinctly more breathable than polyester blend fabrics. Certified performance fabric by DuPont repels fluid, soil and stains - including blood - for over 50 washings, maintaining a bright white finish that signifies a professional prestige. Retailing at $134, the Emma W. lab coat is available in sizes 0 through 16 - a beautiful and truly special new addition to the Medelita line of leading professional lab coats.