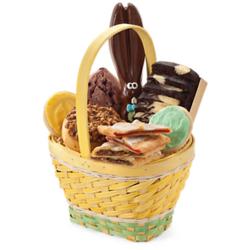 Satisfy each family member's breakfast craving this holiday with Wolferman's spring-themed gift baskets and boxes!
(PRWEB) March 20, 2012
Wolferman's, proud purveyor of specialty foods for over 100 years, provides gourmet pastries and treats for Easter brunch, including signature English muffins, breakfast scones, danishes and other specialty products. Celebrate this holiday with a sweet-filled Easter brunch, courtesy of Wolferman's.
Make Easter brunch a breeze this year with delicious baked goods from Wolferman's. Wolferman's spring-themed gift baskets and boxes have everything needed to satisfy each family member's breakfast craving this holiday. Wolferman's new Spring Tote gift is perfect for a more intimate Easter brunch with family. Included in the bright, reusable tote is an array of treats, such as wild Maine blueberry English muffins, scones, crumpets, and apple butter. Special breakfast goodies from Wolferman's are a wonderful way to start any Easter celebration.
Spoil friends, family, and loved ones this Easter with Wolferman's Deluxe Sunrise Breakfast Tower or Breakfast Sweets Sampler. These dazzling Easter gifts are brimming with a bountiful selection of Wolferman's favorite Easter brunch treats. Feast on five varieties of English muffins, nutty sticky buns, cinnamon sugar crumpets, and berry preserves. This Easter brunch spread is sure to entice anyone to get up at sunrise! For anyone with a sweet tooth, Wolferman's Breakfast Sweets Sampler is a breakfast dream come true. Indulge in a sugar-filled Easter brunch of cinnamon rolls, walnut povitica, and raspberry and pecan kringle. These sweet treats will ensure a special Easter brunch.
Make kids smile on Easter morning with Wolferman's Easter Gift Basket. Kids will love digging through the goodies in this festive basket. A variety of tasty treats are brimming over the top, including Wolferman's chocolate swirl cake, nutty sticky bun, raspberry kringle, frosted sugar cookies, and solid milk chocolate bunny. Nothing delights like gourmet Easter gifts from Wolferman's!
Wolferman's assortment of Easter gifts doesn't stop here – browse through the pages of tasty bakery items and Easter brunch ideas on the Wolferman's website to find gifts for everyone.
Remember to order all Easter brunch gifts before the shipping cut-off dates to ensure timely arrival. The last day to order gifts using regular shipping is March 30th, the last day for 3-day express is April 3rd, the last day for 2-day express is April 4th and the last day for next day delivery is April 6th.
All orders are backed by a 100% guarantee. If those who receive Wolferman's Easter gifts are not fully satisfied, Wolferman's will provide either an appropriate replacement or a full refund. Visit http://www.wolfermans.com for more information.
About Wolferman's
Founded in 1888, Wolferman's is a direct marketer and wholesaler of premium specialty foods and gifts, such as English muffins, tea breads, breakfast pastries, jams and other specialty products. The Wolferman's® catalog also includes a wide variety of gift baskets, gourmet breakfast gifts, gourmet pastries and honey and fruit spreads for every occasion. The Wolferman's® specialty English muffins include the 1910 original recipe, multi-grain & honey, chocolate chip, pumpkin spice and more. The Company started making its signature Wolferman's® English muffins in 1910 and, today, sells its products primarily through its catalog and http://www.wolfermans.com, as well as through foodservice and retail channels. Wolferman's is a Harry & David company which includes the Cushman's brand.
(Harry & David and Wolferman's are DBAs of Harry and David.)
###