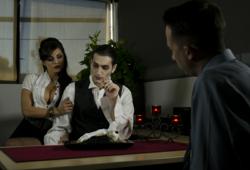 Bank of America wants you to die... before they modify.
San Diego, CA (PRWEB) March 15, 2012
Bank of America never questioned how independent filmmaker De Veau Dunn could be making mortgage payments from six feet under. They just kept sending letters, for months, saying they needed his death certificate in order to modify his home loan. So Dunn, along with San Diego based production company Endi Entertainment, made a video about the whole story.
Throughout the loan modification process Bank of America had repeatedly requested and received the same documents from Dunn. Then the bank claimed to need homeowner Dunn to send official documents proving he was deceased, in order to complete his loan modification.
"At first I gave Bank of America the benefit of the doubt, thinking they had made a mistake," said Dunn. " I immediately contacted the bank to inform them that, not only was I still alive, but I was the only borrower on my home loan, and I was still seeking a modification."
Dunn said he spent several weeks making phone calls, writing letters and emailing the bank's customer relations manager. After more than a month of back and forth with Bank of America and still getting nowhere, Dunn received a new letter requesting not only his death certificate, but a statement of death benefits to go along with it.
Dunn explained , "It was at that point that I'd had enough and I he decided to make a documentary about the experience. I did not know what else to do, the experience has been unsettling, on a lot of levels," said Dunn. "What should have been a simple financial transaction turned into a relentless nightmare. It was weird. I felt like I was fighting for my life. At one point a representative laughed about it over the phone… I was in shock."
"I made this film not just for myself, but so that it might be the voice of countless others who may be being treating this way by lending institutions. I have been told numerous stories of older people that some banks are bullying and most of those people don't have a voice," according to Dunn.
Dunn started his video with a $50 budget. "Money is tight, but fortunately I had a few filmmaking friends that wanted to help me. We shot the whole thing in one weekend, and I did the voice-over narration myself." according to Dunn. Comedian Mark Serritella was so upset when he heard what the bank was doing that he asked to play Dunn in the film in exchange for gas money and a place to crash. Another actor-filmmaker friend, Nicholas George, helped polish the script and flew to San Diego to play the undertaker in the "Bank of America Wants You to Die" documentary.
"Mark Serritella really captured the emotions and Nicholas George was hilarious in the video," said Dunn. "After I shot the last scene for Part One, I finally started to feel like all of this hardship had a higher purpose. Like the story of David versus Goliath," said Dunn. "In this case, a small bank customer like myself is being bullied by the biggest bank in America, Bank of America. I didn't know what else to make of it other than is seems as though Bank of America wants you to die... before they modify."
About Banking Bad: The "Banking Bad" documentary series about Dunn's story may speaks to an entire nation caught in a financial and housing crisis. You can find the video on the "Banking Bad" website or at http://www.YouTube.com/BankingBad.