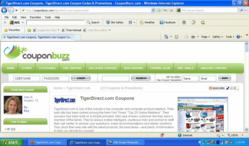 …it helps our customers access impressive instant savings on some of the top brands in the industry.
Houston, TX (PRWEB) March 15, 2012
Today CouponBuzz.com announced exciting TigerDirect coupon codes that can save consumers up to $280 off premium laptops and notebooks available at the online retail website. A link to their impressive inventory is now posted on CouponBuzz.com's webpage dedicated to TigerDirect coupon codes. TigerDirect.com markets top of the line brand-name personal computers by Dell, HP, Samsung, Asus, Lenovo and more. Every laptop or notebook available offers significant instant savings from the standard online retail price, and is fully customizable to the customer's specifications.
TigerDirect was acquired by Systemax in 1996, about the same time TigerDirect.com was launched as an extremely profitable website. Initially marketing computers, electronics, books and software, they expanded their offerings in 2000 to include brand name computers from some of the largest computer retail giants in the industry. After more than 20 years in the industry, they have established impressive buying power, which enables them to purchase whole sale desktops, laptops and notebooks at extremely low cost, and pass the savings on to their customers.
"It is always a good idea to check out the competition provided by authorized re-sellers when you are considering buying a brand-name computer," said Justin Bowen, one of the founders of CouponBuzz.com. "Often you can purchase the exact same brand and model of a computer from a reseller like TigerDirect.com for much less than you would pay if you bought directly from the source. One of the reasons we are so excited about our new webpage for TigerDirect coupon codes is that it helps our customers access impressive instant savings on some of the top brands in the industry."
A complete inventory of the laptops and notebooks with the largest instant savings is now accessible via a link on CouponBuzz.com's webpage for TigerDirect coupon codes. The web page is located at http://couponbuzz.com/tigerdirect.com-coupons.html. Major savings are available on Dell Latitudes, Lenovo Thinkpads, and the Toshiba Satellite Pro, just to name a few, and consumers are flocking to the new section at CouponBuzz.com to check out the impressive offers.