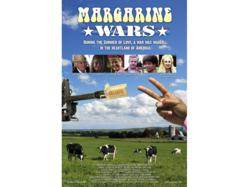 Margarine Wars is Coming
Chandler, AZ (PRWEB) March 20, 2012
Special guests include Ed Asner, Ron Glass, Stephen Gaghan, Angela Tortu, Bai Ling, Darrin Dewitt Henson, Damon Whitaker and many more. Guests will start to arrive at 6:30 PM with the Red Carpet beginning at 6:45 PM.
It's the Summer of Love during 1967. Howard Schmear (Ron G) has had it with The Big Apple so he hits the road with aspirations of living life as a hippie in San Francisco. His journey comes to a screeching halt when a cow causes his flower power bus to crash.
Imagine what can happen when an aspiring hippie from New York dupes Melvin (Michael Spellman), the son of a small town dairy farmer, into smuggling a highly-illegal substance. America's favorite new condiment - margarine - is illegal, in fact a felony, in butter-happy Wisconsin. A war is waged; and Howard has to navigate his way through the town's colorful characters as they all scheme to elude the dairy-protecting police.
The laws making margarine illegal were real in 1967 as the butter substitute becomes popular in America, Margarine is outlawed in dairy farming states to protect the farmers' livelihood… so, let the margarine bootlegging begin!
The film is directed by David Rich from a screenplay by Scott Walker, Joe Hold and David Rich. The producers are David Rich, Tamara McDaniel, Rusty Case, and Lee Rudnicki. Original music by Gavin Heaney - "Latch Key Kid."
This film has not been rated.
PR & Media Contact for DB Rich Productions LLC:
Fabiola Mercado
Axis Entertainment Inc.
E: fmercado(at)axis-entertainment(dot)com
T: 310.276.2220 / F: 310 861.0958