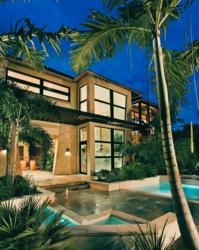 Alexandria, VA (PRWEB) March 16, 2012
With PlanWorx™, homeowners gain more control over the budget and schedule of their outdoor living project through innovative, professional design services that provide accessibility to landscape architects. Homeowners have the ability to obtain comparative bids for the different components of their project such as the swimming pool, patio, pergola, or outdoor kitchen that are independent from the landscaping portion. They can also present the same set of construction plans to contractors so they can see each company's offering against one another. If a homeowner chooses to implement a DIY (do-it-yourself) strategy, PlanWorx™ can reduce the labor costs by up to 40% and open scheduling options to phase various parts of the project over time to accommodate their budget and life events.
"Our landscape design services are help homeowners who are trying to maximize their return on one of their largest investments, by lowering costs and offering choices beyond the traditional way of shopping for a landscape contractor. We feel it is important for consumers to know what they are buying and getting apples-to-apples bids from different contractors. This helps educate consumers and give them more buying power" said Robert Knaak, Principal and founder of
Knaak Design Group.
PlanWorx™ is the online division of Knaak Design Group, offering low-cost landscape design services to homeowners, real estate investors, and contractors nationwide and in Canada delivered by registered landscape architects. Knäak Design Group has offices in Texas, Arizona, and Florida. For more information regarding our online landscape design services, contact Madison McClain or visit our website at http://www.onlinelandscapedesign.com.
About Knäak Design Group
Knäak Design Group is a nationally recognized landscape and architecture firm, providing professional landscaping services to architects, investors, engineers, builders, and homeowners seeking unique landscape design solutions for their project. Knäak Design Group has offices in Dallas, Phoenix, and southwest Florida and provides services to clients nationwide. For more information about Knaak Design Group's online landscape design services contact Madison or visit website at http://www.onlinelandscapedesign.com.
###