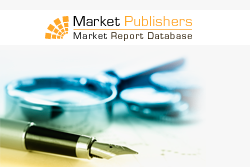 London, UK (PRWEB) March 15, 2012
In order to ensure a diversified and stable energy supply for Europe there is a need for increased cross-border trading in electricity. However, the current framework for regulating, building and financing interconnectors – which, simply put, are cross-border transmission lines that are not funded through the regulated asset base of a utility or monopoly transmission company, or transmission system operator (TSO) – in the European Union is broken. It might limp on for a few more years but it will need a complete overhaul sooner rather than later.
The EU had agreed that minimum electricity interconnection levels between member states should be increased to at least 10% of demand, as endorsed by the Barcelona European Council in 2002. While interconnection into some member states has exceeded the 10% target since 2010, the overall picture is very mixed, with southern Europe, the UK and Ireland continuing to experience significant bottlenecks and falling short of the rather limited target.
New research study "The European Cross-Border Electricity Interconnectors Market 2012-2022" developed by Visiongain has been recently published by Market Publishers Ltd.
Report Details:
Title: The European Cross-Border Electricity Interconnectors Market 2012-2022
Published: February, 2012
Pages: 111
Price: US$ 2,642
http://marketpublishers.com/report/industry/energy/european_cross_border_electricity_interconnectors_market_2012_2022.html
The report provides valuable information and insight into the European cross-border electricity interconnector market's development over the next decade, along with detailed forecasts of electricity movement through 2022.
Report Highlights:

data on import/export and domestic production of electricity for 8 major European countries – Germany, France, Italy, Switzerland, Norway, the Netherlands, UK, Spain – with historical data back to 2006 and future forecasts and analysis to 2022;
examination of domestic electricity production for 8 major European countries in 2011;
forecasts and analysis for 8 national grids for the period 2012-2022;
historic, current and future interconnectivity for major European countries;
analysis and forecast of the changing dynamics of the European interconnectivity market between 2012-2022;
profiles of leading companies and markets operating within the European interconnectivity market;
opinions from industry leaders;
full transcripts of interviews from three companies involved in the super grids market;
detailed explanation of current and historic EU regulations relating to electricity interconnectors within Europe.
Report Contents:
1. Executive Summary
1.1 Introduction
1.2 Drivers and Restraints of the Interconnectors Market
1.2.1 Drivers
1.2.2 Restraints
1.3 Outlook for the Interconnectors Market
1.4 Benefits of this Report
1.5 Methodology
2. Introduction to the Market
2.1 EU Regulations Governing the Interconnector Markets Within Europe
2.2 EU Financial Support of Cross Border Electricity Connection Within Europe
2.3 Applications and Technology Relating to Interconnectivity in Europe
2.3.1 High Voltage Direct Current Cables (HVDC)
2.3.2 Utilising Energy Storage Technology
2.3.3 The Move Towards a Supergrid
2.3.4 Supply and Demand
2.3.5 Technologies Essential in the Development of Smart Grid
2.4 Current New Examples of Cross-Border Interconnectors Projects
2.4.1 Lessons from East West Interconnector (EWC)
2.4.2 Lessons from Britned Interconnector
3. The European Cross-Border Electricity Market
3.1 The Liberalisation of the European Electricity Market
3.2 Harmonisation of the European Cross-Border Electricity Market
3.3 Current Mechanisms of the European Electricity Market
3.4 Analysing the Main Electricity Markets Within Europe
3.4.1 Nord Pool
3.4.2 APX - ENDEX
3.4.3 Belpex
3.4.4 EXX
3.4.5 EPEX Spot
3.4.6 IPEX
3.4.7 MIBEL
3.4.8 Future Markets
4. Leading European Electricity Markets
4.1 Introduction to Leading European Electricity Markets
4.2 France
4.2.1 The French Interconnector Market
4.2.2 Current Cross-Border Interconnection Links with France
4.2.3 Future French Interconnectivity plans
4.2.4 French Electricity Forecast 2011-2022
4.3 Germany
4.3.1 The Current German Interconnector Market
4.3.2 Current German Cross-Border Interconnectivity
4.3.3 Future German pan-European Interconnectivity Plans
4.3.4 German Electricity Forecast 2011-2022
4.4 The UK
4.4.1 The UK Interconnector Market
4.4.2 Current Links between the UK and European Mainland
...
More new studies by the publisher can be found at Visiongain page.