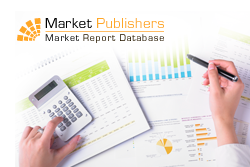 London, UK (PRWEB) March 15, 2012
The world storage software market is projected to grow at a CAGR of 7.5% from 2011 to 2015, driven by the increasing need for secure and easy data access. The global storage software market has also been witnessing the consolidation of storage software and hardware solution vendors. However, increasing operational costs due to lack of expertise could pose a challenge to this sector growth.
New research report "Global Storage Software Market 2011-2015" worked out by Infiniti Research has been recently published by Market Publishers Ltd.
Report Details:
Title: Global Storage Software Market 2011-2015
Published: February, 2012
Pages: 35
Price: US$ 1,500
http://marketpublishers.com/report/technologies_electronics/software_services/global_storage_software_market_2011_2015.html
Focusing on the Americas, as well as the EMEA and APAC regions, the report covers the global storage software market landscape and its growth prospects in years to come.
Key vendors discussed in the report include: EMC Corp., Symantec Corp., IBM Corp., and NetApp Inc.
Key questions answered in the report:

What will the market size be in 2014 and at what rate will it grow?
What key trends is this market subject to?
What is driving this market?
What are the challenges to market growth?
Who are the key vendors in this market space?
What are the opportunities and threats faced by each of these key vendors?
What are the strengths and weaknesses of each of these key vendors?
Report Contents:
01. EXECUTIVE SUMMARY
02. INTRODUCTION
03. MARKET COVERAGE
04. MARKET LANDSCAPE
05. GEOGRAPHICAL SEGMENTATION
06. KEY LEADING COUNTRIES
07. VENDOR LANDSCAPE
08. BUYING CRITERIA
09. MARKET GROWTH DRIVERS
10. DRIVERS AND THEIR IMPACT
11. MARKET CHALLENGES
12. IMPACT OF DRIVERS AND CHALLENGES
13. MARKET TRENDS
14. KEY VENDOR ANALYSIS
14.1 EMC Corp.
14.2 Symantec Corp.
14.3 IBM Corp.
14.4 NetApp Inc.
15. OTHER REPORTS IN THIS SERIES
LIST OF EXHIBITS
Exhibit 1: Global Storage Software Market 2011–2015 (in US$ billion)
Exhibit 2: Global Storage Software Market by Functional Segmentation 2011
Exhibit 3: Global Storage Software Market by Geographical Segmentation 2011
Exhibit 4: Global Storage Software Market by Vendor Segmentation 2011
...
More new market research reports by the publisher can be found at Infiniti Research page.