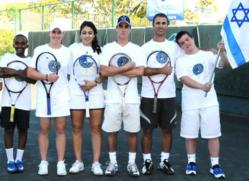 our Florida tennis exhibitions demonstrated the impact of tennis on the lives of so many at risk children.
New York City, NY (PRWEB) March 20, 2012
Alan Goldner, President of the Israel Tennis Centers Foundation, announced from the organization's New York City office that over a half a million dollars has been raised in the past few weeks from a series of tennis exhibitions in south Florida. Said the Foundation President, "as a result of the tremendous generosity from the South Florida communities of the Polo Club, Addison Reserve, Longboat Key, Frenchman's Creek , Boca West and Woodfield Country Club we will be able to support hundreds of children at risk throughout Israel."
Among those participating in the South Florida exhibitions and helping to raise money for the Israel Tennis Centers Foundation were several young tennis players from "at risk" programs including Elad Gevandschnaider, Levi Mekonen and Rachel Pashaev. Elad has Down's Syndrome, Levi is from an Ethiopian family from Beer Sheva and Rachel comes from a disadvantaged neighborhood in Sderot where her town is constantly under rocket attack from Hamas terrorists operating from the Gaza strip. Norma Rosenberg the volunteer fundraising chairwoman from Chicago noted that "our Florida tennis exhibitions demonstrated the impact of tennis on the lives of so many at risk children. And when we see these wonderful young people as both athletes and role models representing their communities and Israel, it is one of the most beautiful things in the world."
One of the graduates of the Israel Tennis Centers' Co-Existence program, which is under the "at risk" umbrella, Nadine Fahoum, made a special trip to South Florida to support the exhibitions and fund raising efforts. Nadine Fahoum a Muslim Arab from the city of Haifa, in Israel will be graduating from Duke University, where she has been the number one singles player for the past two years. Nadine loved being with the children who were touring and doing exhibitions because of her passion for both the Israel Tennis Centers Foundation and the co-existence program she helped to make well known throughout Israel. "Anything I can do to help these children and the Foundation that helped make me what I am today, I must support because there are still so many more children that need our help" said Nadine.
The Israel Tennis Centers Foundation is a 501 (c) 3 non profit organization that has worked for over 35 years to enhance the social, psychological, and physical development of Israeli youth through the medium of sport. Most of ITC Centers are located in disadvantaged neighborhoods or outlying development towns throughout Israel, from Kiryat Shmona on the Lebanese border in the North to Beer Sheva bordering the Negev Desert in the South.
Contact:
David W. Lippy (614) 939-1533 or cell (614) 554-9235
DLippy(at)insight.rr(dot)com