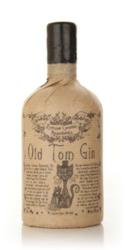 Professor Cornelius Ampleforth has been busy, producing two splendid new gins for your delectation
(PRWEB UK) 16 March 2012
Professor Cornelius Ampleforth has been busy, producing two splendid new gins for your delectation.
First there's Old Tom, on sale now for £24.95, a traditional style of gin that was very popular in 18th and 19th century England. Old Tom is a slightly sweetened gin, created by the professor following a request from The Handmade Cocktail Company, which needed a tasty Old Tom gin for use in its soon-to-be-released Martinez cocktail.
Old Tom got its name from an usual dispensing method used by London gin houses.
A tom cat-shaped plaque would be hung outside where passers-by could drop a coin in the animal's mouth. The proprietor would then dispense a shot of gin from a tube under the cat's paws.
This almost-forgotten style of gin is perfect in sweet gin cocktails – it's how the classic Tom Collins got its name – and makes a great G&T.
Tasting notes:
Nose: This is fruity and sweet on the nose with pronounced botanical notes. There is a good citrus element to it too.
Palate: The light sweetness seems to add body to this, and helps develop some of the juniper and orange flavours.
Finish: Clean with a touch of pepper.
Overall: A great gin that not only makes a great G&T (the additional body works wonders) but will make a fantastic Martinez... in fact it's the obvious ingredient for any classic gin cocktail that requires a hint of sweetness.
The professor has also added Vintage Sloe Gin to his popular range of handmade bespoke spirits.
Professor Cornelius Ampleforth's Vintage Sloe Gin, on sale now for £24.95, is a superior small batch spirit that represents the perfect balance between sweetness, tannic grip, and aromatic richness.
The sloe gin is made entirely by hand using a time-honoured 'cold-compounding' technique. Almost half a pound of sloes are used in the production of each bottle, along with juniper, cinnamon, coriander, cloves, and the finest orange peel, which are all added to very high quality copper pot-still spirit.
Tasting notes:
Nose: Marzipan and varied botanicals. A definite hint of coriander. Pronounced spices including cinnamon and cloves. Some citrus notes too. Fresh lemon, and a thick marmalade sweetness.
Palate: Big almond taste with dark forest berries. Blackcurrants and sweet vanilla with a balanced hit of oaky tannins.
Finish: A dry nutty finish that contrasts perfectly with the sweet attack. There are some bitter dark chocolate notes here too.
Overall: A sophisticated take on the classic sloe gin with more to offer than simple berry sweetness.
The Old Tom and Vintage Sloe Gin join the Professor Cornelius Ampleforth range of artisan small batch products, including Bathtub Gin, Rumbullion!, Besmoked Vodka, and Proprietary Barley Spirit Drink.
The whole range is packaged using brown paper, string and wax, underlining its high-quality small batch origins.
About Master of Malt:

Established in 1985
Master of Malt is one of the UK's leading Online Whisky & Spirit Merchants, with a huge range of whiskies, rum, brandies, gins, cocktails and many other fine spirits.
UK Next Day Delivery from £6.95
Follow Master of Malt:
For more information contact:
Ben Ellefsen: +44 (0)7816 661657