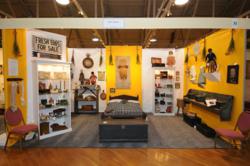 Manchester, NH (PRWEB) March 15, 2012
The highlight of New Hampshire's Antiques Week, the New Hampshire Antiques Show has been called "fresh and exciting" by dealers and buyers alike. Presented by members of the New Hampshire Antiques Dealers Association (NHADA), the show attracts thousands of buyers and enthusiasts from around the country seeking high-quality antiques at reasonable prices.
WHEN: Thursday, August 9: 10 a.m. - 7 p.m.
Friday, August 10: 10 a.m. - 7 p.m.
Saturday, August 11: 10 a.m. - 4 p.m.
WHERE: Radisson Hotel Manchester, 700 Elm St., Manchester, NH.
COST: $15 (Thurs.); $10 (Fri. – Sat.). Free admission to anyone under 30 with proper ID. Free return visits to the show after initial admission.
About NHADA
NHADA is the one of the largest antiques organizations of its kind, with nearly 300 in-state and out-of-state members. Members are committed to business integrity, as well as building awareness and appreciation of articles of antique value. For more information, visit http://www.nhada.org or call 603-585-9199.