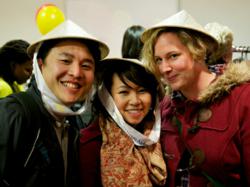 Vietnam is currently the must-visit destination, often referred to as 'A Different Orient'
(PRWEB UK) 16 March 2012
Expert travel agent peoplestravel brought a stunning holiday destination to its customers in London last month.
peoplestravel usually helps customers find their dream holiday abroad. But in February, peoplestravel took the opportunity to do something a bit different - and bring a dream holiday directly to customers instead.
The travel agent hosted a special Vietnam evening at its London base in Baker Street on February 21, giving people a chance to experience some of the features of a country which is fast becoming one of the top tourist destinations.
Dubbed "A Different Orient", Vietnam's popularity has skyrocketed in recent years, as people learn more about the country's stunning scenery, colourful culture and charming cuisine.
Almost 200 people attended the Vietnam evening to sample local food and lifestyle features: including traditional Vietnamese hats and clothing.
The event was organised in conjunction with Vietnam Airlines, Vietnamese Kitchen, Vietnamese Embassy and Victoria Hotels and Resorts.
Visitors were provided with plenty of useful information about Vietnam, the best places to go, and the best Vietnam holiday deals available through peoplestravel.
"During the evening, we served wine and Vietnamese beer, together with Vietnamese snacks, and provided an opportunity for guests to learn a little more about this fabulous country," said Robert Rigby from peoplestravel.
"Vietnam is currently the must-visit destination, often referred to as 'A Different Orient'. It offers an array of colour, charm, beauty and stunning scenery and culinary experiences."
Two lucky guests won a pair of tickets to Vietnam from Vietnam Airlines, with other prizes on the night including a meal for two at the Viet Grill, and two nights at the Victoria Sapa, or two tickets on the Victoria Express Train.
peoplestravel often holds events to showcase different holiday destinations for potential tourists. It has previously held a Sri Lanka Week, featuring a photography exhibition; a National Cruise Week looking at the best boat trips; a Bella Italia evening full of fine wine and pasta; an Incredible India evening, and a look at Amtrak travel in America.
For more information on Vietnam holidays, visit http://www.peoples.travel/Vietnam-holidays.
To see upcoming events at peoplestravel, visit http://www.peoples.travel/pages/events
Notes for editors:
For more information, please contact 0844 472 3210.
About peoplestravel:
Based in Baker Street, London, http://www.peoples.travel is part of Emerald Global Ltd, and is backed by more than three decades of experience helping holidaymakers find their dream trip abroad.
peoplestravel arranges holidays to a number of popular destinations, including the Costal del Sol, Cambodia holidays, Vietnam, Spain, Australia, New Zealand, Japan, India, France, the Netherlands, Jamaica, Indochina and Antigua.