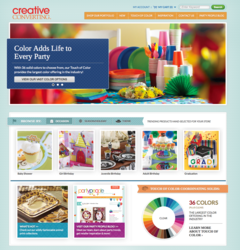 We're not only wanting to increase awareness of our business and full offerings to new customers, but we're providing current retailers with improved ways to quickly view and order our products. - Andy Romjue, VP of Marketing
Clintonville, WI (PRWEB) March 16, 2012
Creative Converting, a leading designer, manufacturer and distributor of disposable tableware and party supplies is delighted to announce the launch of their newly redesigned website at CreativeConverting.com. The improved site features a searchable online product catalog, ordering capabilities, merchandising tools and a company blog. Vodori, a Chicago-based digital agency, was responsible for the design and worked closely with the Creative Converting team on the development of the site.
According to Andy Romjue, Vice President of Marketing, "With the launch of our new site, we're not only wanting to increase awareness of our business and full offerings to new customers, but we're providing current retailers with improved ways to quickly view and order our products."
With inviting and aesthetically pleasing design purposefully mirrored after it's printed catalogs, Creative Converting's new site provides party resellers with a full offering online. Features on the homepage include a compelling Touch of Color wheel tool, which highlights Creative Converting's top-selling solid color line, and large areas emphasizing trending products hand-selected for retailers.
"Our team will continue to look at ways to improve the site to offer the best customer experience online," Romjue stated. "We're already anticipating several further enhancements in 2012 and are excited to continue to learn and grow in the future."
About Creative Converting
Creative Converting, a division of Hoffmaster Group, Inc, is a leading source for wholesale disposable party supplies, providing one of the largest offerings in the industry. Serving a wide range of distribution channels in the U.S. and internationally, Creative Converting products can be found in party stores, grocery, drug, club, and mass retailers. With a seasoned staff of industry experts, Creative Converting is committed to design, service, quality, and innovation. For more information, visit CreativeConverting.com.