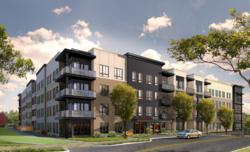 "As a smaller boutique project, it's a contrast to the 150-plus unit developments prevalent in the area. It offers spacious floor plans, green space, courtyards, balconies and terraces, an ideal setting for dog owners, and a fantastic location."
Arlington, VA (PRWEB) March 15, 2012
Just off Route 50, within blocks of the Courthouse Metro station, Insight Property Group LLC has kicked off construction of Grayson Flats Arlington, a 67-unit luxury apartment building scheduled to deliver in October of 2012. Buvermo Investments of Bethesda, MD is the equity partner in the $25 million development.
The four-story Grayson Flats will be the first completed development project for Insight. Founded in 2009 by longtime multifamily industry veterans Richard Hausler and Michael Blum, the Tysons Corner, VA-based company has acquired over 500 existing apartments and has over 1,000 more multifamily units in its current development pipeline.
In addition to Grayson Flats, current Insight development projects include two buildings scheduled to break ground later this year: one in downtown Silver Spring, MD and one near the Huntington Metro station in Alexandria, VA. Two more projects -- another development in Arlington and one on H Street, NE in Washington, D.C. -- will follow shortly thereafter.
Grayson Flats is being built on a 1.67-acre site at 1200 North Rolfe Street, which Insight acquired in 2010. The company demolished an existing 55-year-old apartment complex and is replacing it with the new high-end Grayson Flats. The site abuts Fort Myer and has a park-like setting, yet is conveniently located just off the Route 50 ramp and a few blocks from Courthouse Metro. It also is near a variety of eclectic shops and restaurants on Wilson Boulevard.
Transportation and transit are key selling points for the project. Grayson Flats residents will enjoy quick and easy access to the entire Rosslyn-Ballston corridor, the Columbia Pike Corridor, Routes 50 and 66, the George Washington Parkway, Key Bridge, Georgetown, the Pentagon, and major employment centers throughout the Washington, D.C. region. Not only is Metro within walking distance, but there is Metrobus service next-door and bike-sharing stations nearby.
"Grayson Flats is one of a handful of projects to break ground in the Rosslyn-Ballston corridor over the past year," said Sarah Davidson, Managing Director/Partner of Insight Property Group. "As a smaller boutique project, it's a contrast to the 150-plus unit developments prevalent in the area. It offers spacious floor plans, green space, courtyards, balconies and terraces, an ideal setting for dog owners, and a fantastic location."
Lessard Design, Inc. and Preston Partnership designed a modern, amenity-rich building that will offer apartments larger than typical Ballston/Rosslyn offerings. The homes will average 1,100 square feet; the largest units, with two bedrooms, two and a half baths, and a den, will offer over 1,450 SF of living space. Selected residences will have their own 400 SF rooftop terraces and all homes will have large transom windows that create light-filled spaces.
Grayson Flats will offer a variety of outdoor amenities including a courtyard with open cabanas, fire pit and bocce lawn, and a rooftop deck for residents with views towards downtown Washington. Other shared amenities will include garage parking under the building with elevator access to all levels, a fitness center, lounge with a kitchen, bar, cyber café, Wi-Fi, and a billiards area. In addition to being pedestrian-friendly, the building will provide bike storage and an electric car charging station.
Each individual apartment will have a balcony or terrace, hardwood flooring, stainless steel appliances, granite countertops, and full-size washer and dryer, as well as high-end cabinets, fixtures, and lighting.
Clark Builders Group is the general contractor for Grayson Flats; Bozzuto Management Company will handle leasing and property management. Cardinal Bank provided a $19 million construction loan.
Founded by longtime multifamily industry veterans Richard Hausler and Michael Blum, Insight Property Group LLC acquires, repositions, and develops well-located apartments and mixed-use real estate in the Washington, D.C. metropolitan region. The principals have a total of more than 70 years of experience in the area real estate industry. For more information, visit: http://www.insightpropertygroupllc.com and http://www.graysonflats.com
###