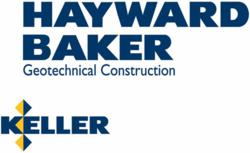 Odenton, Maryland (PRWEB) March 16, 2012
Hayward Baker, Inc., North America's leading geotechnical contractor, announces the promotion of Dennis W. Boehm to vice president. Boehm continues in his role as the chief engineer for the company's Central Region, where he heads up a team of specialists responsible for the design and estimating of various ground modification projects in the region's challenging soil profiles. He is based out of the company's Gulf Coast Area Office in Houston, Tex.
Mr. Boehm has over 25 years of engineering design, supervision and onsite project management experience. He has been with Hayward Baker since 1990. Prior to his most recent promotion, Boehm served as a chief engineer as well as an area manager for the company's Central Region, for where he has been involved in many noteworthy ground modification initiatives. These include projects for Houston International Airport, Corpus Christi Naval Air Station, Cottonwood Power in Beaumont, Tex., and Kraft Foods in Russellville, Ark., to name a few.
Prior to joining Hayward Baker in 1990, Boehm worked for PRESCON Corporation in the heavy construction industry. He holds a B.S. degree in civil engineering from Texas A&M University.
Commenting on the promotion of Boehm, Steve Scherer, senior vice president for the Central Region, stated, "Dennis's strong history with Hayward Baker as evidenced by his long resume of managing successful projects is noteworthy. He is a specialist in jet grouting, soil mixing and most other Hayward Baker services, and his expertise makes him a key resource for other Hayward Baker engineers in dealing with the challenges involving these services – both in the Central Region as well as companywide. He is a tremendous asset to the company."
Dennis Boehm can be reached at Hayward Baker Inc., 509 North Sam Houston Parkway East, Suite 400, Houston, Tex. 77060. Phone: 281-668-1870. FAX: 281-668-1871.
About Hayward Baker Inc.
Hayward Baker Inc. is North America's leading geotechnical contractor. Ranked by ENR magazine as the #1 Excavation/Foundation Contractor, Hayward Baker is the industry leader in applying ground modification technologies to site improvement and remedial work, with a 60-year record of experience. A wide range of technologies is employed in providing foundation support and rehabilitation services as well as settlement control, structural support, site improvement, soil and slope stabilization, underpinning, excavation shoring, earth retention, seismic stabilization, and ground water control. Hayward Baker is capable of offering full Design-Build services for virtually any geotechnical construction application.
Hayward Baker's services are provided through a network of more than 20 company-owned offices and equipment yards across the continent.
Hayward Baker Inc. is part of the Keller Group of companies, a multinational organization providing geotechnical construction services throughout the world. Web site address: http://www.keller.co.uk.