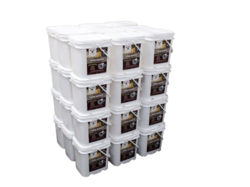 Janesville, WI (PRWEB) March 19, 2012
Once, preparing for the end of the world as we know it was seen as just another crackpot theory to help people cope with the rapidly-changing world. However, nowadays more and more people are noticing signs of decay and unsteadiness in industrialized societies. The very technology and progressive attitudes that made America a global superpower have now weakened her, as evidenced by the recent financial collapse and growing unrest around the world. Combine that with the very real impending water with oil shortages that will hit the planet in the coming decades, along with any unforeseen natural disasters. Suddenly having a few months' or years' worth of survival food and water in storage doesn't seem like such a bad idea.
Here at survivaltools-equipment.com we have gourmet long term food that will meat the needs in these times. People don't even need to believe in a doomsday scenario to understand the importance of a food and water supply, although stocking up for doomsday prepares people for just about any other situation. Local emergencies like blizzards, floods and tornadoes can leave a town isolated without power for days. Without fresh water and food, things can get serious very quickly. People owe it to themself and their family to be ready for any emergency. Thanks to the science of food storage, there are plenty of survival foods and sealed water on the market to make planning easy and affordable.
The average 'Doomsday Prepper' is getting ready with his or her food stores by stocking up in bulk, canned, freeze-dried or vacuum-sealed goods, then using them before they hit their expiration date. For some foods this is only a few months, while other foods such as honey can sit for thousands of years and still be edible. Some families, however, don't like all of the hassle involved with rotating foods, and are worried by limited expiration dates.
The good news is that there are survival foods are specifically designed to bring humans their entire nutritional requirements while lasting up to 25 years in edible condition. There are many gourmet meal options, both with and without meat, to appeal to any survivalist and keep things varied. Doomsday survivors on the go can down a quick breakfast meal, or simply grab a breakfast bar before worrying about the more pressing issues of the day. Even more important than food is water, which is good for up to five years and of paramount importance in situations where clean water is no longer available. Don't let doomsday catch you unprepared; start stocking up on survival foods today!