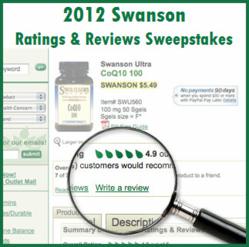 Fargo, ND (PRWEB) March 16, 2012
Swanson Health Products is launching the Swanson Ratings & Reviews Sweepstakes, a contest for customers who rate and review their products. This giveaway contest is open to anyone who writes an approved review of any item sold on SwansonVitamins.com. Each review is entered to win one of three weekly prizes—the more reviews the customer writes, the better his or her chances of winning. Also, customers who write reviews on Swanson Health Products branded items get their names entered twice, doubling their chances. Each week, SHP will hold a random drawing from all eligible entries for one $50 gift certificate and two $25 gift certificates to be used at SwansonVitamins.com.
In 2007, Swanson Health Products partnered with Bazaarvoice, a platform for user-generated content, to publish product reviews written by customers. With nearly 50,000 item reviews, the customer ratings and reviews program on SwansonVitamins.com has been a success. Swanson Health Products features customer reviews on several areas of its website as well as in its catalogs and promotional materials. Ratings and reviews are an asset for many shoppers. They also provide feedback to the Swanson team which gives them the opportunity to improve lower rated products. More than 400 reviews are submitted weekly on SwansonVitamins.com, with products averaging a 4.5 out 5 approval rating.
The contest runs from March 13, 2012 to April 15, 2012. For more information on how to submit a review and a full explanation of the Swanson Ratings & Reviews Sweepstakes, read the official contest rules.
Swanson Health Products is an industry leader in bringing vitamins direct to consumers at the lowest prices possible. Swanson Health Products, headquartered in Fargo, ND, offers the highest quality vitamins, supplements and natural health care products and is Good Manufacturing Practices certified. Swanson Health Products goes a step beyond its competitors by offering powerful guarantees. All products are backed by a 100% Satisfaction, Money-Back Guarantee. For more information, please visit swansonvitamins.com.