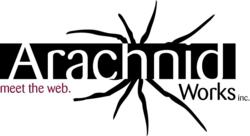 Frederick, MD (PRWEB) March 19, 2012
ArachnidWorks, Inc., a Frederick, MD advertising agency, is proud to announce the hiring of a new full-time employee, Allison Beaver. Ms. Beaver will assist with numerous graphic design layouts and will also contribute to other marketing efforts within the company.
"We have been waiting for the right time to grow, and with the economy slowly recovering we felt it was the perfect time to expand," noted Monica Kolbay, President of ArachnidWorks. "Allison has been working with us part time but with a pick-up in demand from local businesses, I felt that her skills would greatly benefit the company and our clients on a full-time basis."
Before joining ArachnidWorks, Ms. Beaver had internships at local businesses relating to fashion and website design. She has been working part-time for ArachnidWorks since 2011, and has a BA degree in Visual Communication Design from Stevenson University.
About ArachnidWorks, Inc:
ArachnidWorks is a full-service advertising agency and Frederick, MD web design agency, serving the Baltimore and Washington, DC metro areas, as well as beyond. The firm offers website design and development along with internet marketing services, as well as media buying, ad creation, copywriting, print media, logo design and other corporate identity services. ArachnidWorks is also a longtime media buyer in a number of major markets in the mid-Atlantic region and beyond.