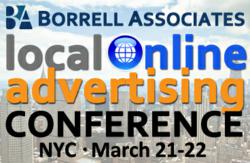 New York, New York (PRWEB) March 15, 2012
Borrell Associates announces Attend@YourDesk live-streaming of its 2012 Local Online Advertising Conference, March 21-22, 2012. This year, a limited number of press passes are available so journalists can view any of the 22+ sessions.* Individuals can purchase a pass or a company can buy a corporate pass for its staff. Most of the sessions will be available for playback on-demand through April 13, 2012.**
The keynote speaker -- media & advertising analyst, AdAge columnist, author & host of NPR's "On the Media" -- Bob Garfield, will speak on the topic of "Chaos, Disruption & Opportunity" in local media. The majority of conference sessions highlight local media companies that are successful in attracting extraordinary digital-ad revenue share. Some key sessions already attracting attention are:
"An Outsider's View of Gannett, Now from the Inside" -- Maryam Banikarim, CMO, Gannett Corp. Inc.
"CBS Local: Going for It" -- Ezra Kurcharz, President, Local Digital Media, CBS
"Deseret Digital Media: Secrets of Success" – Clark Gilbert, CEO, Deseret Digital Media
"Google Gets Local" -- Christine Merritt, Head of Business Dev., Channel Sales N.A.
"Partnering with the Yahoo Consortium" -- Lem Lloyd, VP, Channel Sales, Yahoo!
"Our (Very) Mobile Future" -- Greg Stuart, Global CEO, Mobile Marketing Association
"Advantage: Local Media" – Dan Mason, President and CEO, CBS Radio / Michael Vivio, President, Cox Target Media, Valpak Services / David Sharman, Senior Vice President and Chief Strategy Officer, Dex One
"Positioning Buckets for National and Regional Online Ad Dollars" -- Shawn Riegsecker, Founder and President, Centro, LLC
"The Agency Approach: How Yodle Makes It Work" -- Court Cunningham, CEO, Yodle
For pricing and more information on Attend@YourDesk live streaming and on-demand viewing click here. For a complete list of sessions and speakers go to -- http://borrellassociates.com/loac12.
A twitter feed of the conference can be viewed at http://twubs.com/loac2012. The event hashtag is #LOAC2012.
*Writers and editors are invited to apply but you must be working in an editorial capacity for an established publication, broadcaster, Web site or blog (personal Web pages and personal blogs are not eligible). For consideration, please email Executive VP Peter Conti -- pconti@borrellassociates.com.
** Due to restrictions the Google presentation will not be available on-demand.
About Borrell Associates:
Borrell Associates is an advertising research and consulting firm that assists local media Web sites in maximizing their ad revenue. Borrell Associates helps media companies to develop and implement fact-based strategies and ad-sales tactics supported by our proprietary local ad-spending data through products such as the Compass Report that details local ad-spending patterns for 100 businesses by 13 media. In 2011, Borrell Associates acquired Belden Interactive, a leading survey research firm studying ad-spending intentions at the local-level by SMBs.