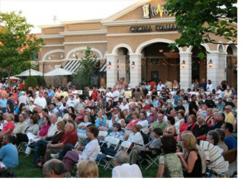 You'll experience something new in the Midwest by Exploring Platte County and seeing what awaits you.
Kansas City, MO (PRWEB) March 17, 2012
Over the river and through the woods – to conquer 12 grueling obstacles, leap fire and crawl through mud to finish a 5k course! Here in Platte County, Missouri we'll be playing hard in spring 2012 as we host both the Warrior Dash and two USSSA World Series Softball Tournaments.
When you Discover Platte County, Missouri – Kansas City's "Northland" – you'll find we feature some of the finest local chefs, including one of the Midwest's most unique Farm Table Dinners at Green Dirt Farm. This spring we're proudly celebrating our heritage with one of Kansas City's best traditional weekend festivals, Festa Italiana at Zona Rosa. The first step toward planning your great Midwest getaway starts by Exploring Platte County right here: http://fasonepartners.com/pcweb/platte/Home.html.
Whether you enjoy extreme or youth sports, gourmet restaurants and premier shopping, daytime or nighttime entertainment, or a simple taste of the land, Platte County offers so much to explore and discover. Travel here is easy. You'll experience something new in the Midwest by Discovering Platte County and seeing what awaits you: http://fasonepartners.com/pcweb/platte/Home.html.
SPRING 2012 EVENTS:
Festa Italiana at Zona Rosa – From June 1-3, EVERYONE's Italian! Festa Italiana is a longtime Kansas City tradition. Sample a taste of Italia from local restaurant favorites Garozzo's and Scimeca's and enjoy featured performers The Las Vegas Rat Pack Reprise and Louis Prima, Jr. While at Zona Rosa be sure to take in the premier shopping, restaurants, improv comedy club, and more.
The Warrior Dash – On May 5 Platte Ridge Park becomes a battleground of mud, obstacles and even fire as sports enthusiasts fight to complete this extreme 5K race and raise donations for St. Jude Children's Research Hospital.
2012 Fast Pitch World Series Softball Tournament – Tiffany Hills Ballpark in Kansas City North will host top youth athletes from across the central region on eight lighted fields at the USSSA Fastpitch "C" World Series for Girls 18 & Under on July 11-14 and the USSSA 12 B World Series on July 17-22.
Green Dirt Farm – Imagine a delicious, fresh meal served on a long, rustic table in a pasture atop the bluffs of the Missouri River. Cool breezes surround historic Weston, Missouri, as Kansas City's finest chefs prepare the best seasonal food grown by local farmers at Green Dirt Farm's Farm Table Dinners. This women-owned and operated small farm is dedicated to delivering 100% grass-fed lamb and sheep's milk cheese to the community. Green Dirt Farm features events from May through November.
Woofstock: A Festival for Dogs and People – Dogs, grab your owners! The 5th annual Woofstock one-mile dog walk/5K run will be held at 7:30 a.m. on May 16 at Zona Rosa featuring a family festival filled with pet-related vendors, contests, prizes, and fun galore. All proceeds will benefit the Northland Animal Welfare Society (NAWS).
30th Annual Weston Lions Club Antique & Collectibles Show – On April 27-28 the historic streets of Weston will be filled with more than 50 vendors who will join dozens of antique and collectibles and specialty shops to showcase treasures as fabulous as the town itself! For a unique shopping experience, visit the antiques & collectibles show at the Weston Burley Tobacco House on Main Street from 10 a.m. to 6 p.m. on April 27 and from 8 a.m. to 5 p.m. on April 28.
Make Your Own Blend at Jowler Creek Winery – From 7-8:30 p.m. on April 14 you'll learn from Jowler Creek winemaker Jason Gerke about the art of blending and have the opportunity to blend wines and take home your own custom bottle of wine. Cost is $49/person and space is limited. Please call (816) 858-5528 to reserve a spot.
Parkville Microbrew Fest – Enjoy samples of the best beers from throughout the Midwest from 1-5 p.m. on April 21 in downtown historic Parkville, Missouri. Afterward, take in a little shopping and grab a tasty bite at one of Parkville's terrific eateries.
For help planning your next great Midwest getaway, visit the Platte County Convention and Visitors Bureau at http://www.co.platte.mo.us/county_visitor_guide/index.html. Produced in cooperation with the Missouri Division of Tourism, http://www.VisitMO.com.
Contact:
Jennifer Goering
Executive Director
Platte County CVB
11724 NW Plaza Circle, Ste. 200
Kansas City, MO 64153
816-270-3967
Fax: 816-858-3386
Email: jgoering(at)co(dot)platte(dot)mo(dot)us
Web: http://www.visitplatte.com
Vintage charm, contemporary KC Spirit!
# # #