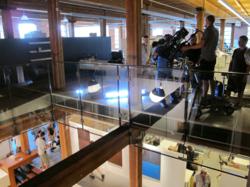 Toronto, ON (PRWEB) March 16, 2012
Stantec has gone Hollywood: Their downtown Toronto studio is in the limelight after it was selected as a primary location for the hit show, The Firm.
Based on the best-selling novel by world-renowned author John Grisham, The Firm stars Josh Lucas as attorney Mitchell McDeere. Stantec's award-winning studio stands in for the law firm of the title, Kinross & Clark. The Firm airs on NBC and Global Television.
"Kinross & Clark is not your typical law firm. So the production team valued the unique design elements of Stantec's studio space that make it an ideal work environment for our team," says Stephen Phillips, Stantec's practice leader for architecture.
Designed by Stantec's own architects, interior designers and engineers, the downtown Toronto studio is a flexible, high-quality workspace that fosters design collaboration, innovation, sustainable design excellence and a commitment to city building.
The production team praised the Stantec studio for its use of natural light, reclaimed elements and its ability to foster a sense of action and flow.
Formerly the McGregor sock factory, the Stantec Toronto Studio is located in the historic Garment District at the corner of Spadina Avenue and Wellington Street West. The site is listed as a heritage property within the city core. Originally constructed in 1905, the timber post and beam building offered the perfect opportunity to reclaim, transform and recycle a piece of the city's industrial history. The project is LEED CI Gold certified, underscoring Stantec's commitment to sustainable practice.
This is not the first time Stantec's downtown studio has been on display. 401 Wellington Street is also a regular stop in Doors Open Toronto, an annual weekend tour dedicated to showcasing Toronto's architectural heritage. It was also one of two tour locations at the GreenBuild inaugural Canadian conference, a finalist in the World Architecture Festival in Barcelona, and has been recognized with over a dozen design and green building awards.
About Stantec
Stantec provides professional consulting services in planning, engineering, architecture, interior design, landscape architecture, surveying, environmental sciences, project management, and project economics for infrastructure and facilities projects. We support public and private sector clients in a diverse range of markets at every stage, from the initial conceptualization and financial feasibility study to project completion and beyond. Our services are provided on projects around the world through approximately 11,000 employees operating out of more than 170 locations in North America and 4 locations internationally. Stantec is One Team providing Integrated Solutions.
For more information visit http://www.doorsopenstantec.com/ or contact:
Rachel Sa
Stantec Media Relations
Tel : 416-598-5699
Cell : 416-902-0930
rachel.sa(at)stantec(dot)com