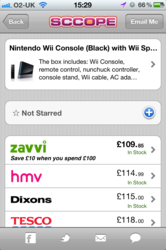 (PRWEB UK) 16 March 2012
Having looked into its users' browsing habits and their behaviour using the 'Sccope' app, Cogenta – the business behind 'Sccope', has announced the latest release to its application for iPhone platform which is now live on iTunes. The free to download 'Sccope' for iPhone app now offers visual improvements that enable simplified navigation within wish lists and price/stock alert management. Majority of actions can now be performed with a single tap and displayed on the same product menu interface allowing easy visual recognition of the user's behaviour towards a particular product.
Alerts
Price and stock alerts have never been easier to set. One tap on the 'Star' icon displayed on the product page will ensure the alert is set automatically. All tracked items will be displayed in the same 'Starred' list.
Wish lists
'Sccope' users can now create multiple lists for any occasion that is relevant only to them. The option to organise items into lists is easy and intuitive. Items can be distributed into lists by tapping on the name of the list from the menu or newly created lists. The app allows indefinite listing and personalisation.
Retailer offers
The application automatically detects retailer's promotional offer (if applicable) at the time when the user is visiting the retailer's website. The promotional offer will appear on the screen with its details, promotional code and expiry date.
No more mistyping
The latest version of 'Sccope' eliminated mistyping of email addresses and product codes. Firstly, in order to email a particular product to oneself or a friend, the user can simply choose an email address from their contacts. Secondly, product codes can now be copied in full and shared with the user's social networks, eliminating the possibility of typing errors.
To download the latest version of 'Sccope' for iPhone, visit: http://bit.ly/8UVDjf
Visit: http://www.sccope.co.uk and http://www.sccope.com to learn more about 'Sccope'.
Notes to editors
'Sccope' is a free personal shopping app available via iPhone, BlackBerry and Android smartphones.
Cogenta maintains a unique view of the UK's retail market by providing in-depth coverage of top high street [multi-channel] retailers and online to ensure the experience is relevant to people wherever they shop.