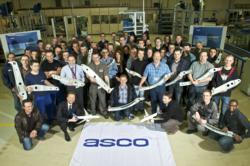 "Asco is proud to participate in this challenging technological aircraft, imprinted
with technologies that will benefit both the performance and the maintenance of airplanes, contributing to sustainable green growth of the industry"
(PRWEB) March 17, 2012
Asco, proven specialist from design to manufacturing of high lift devices and complex precision mechanical subassemblies for the aerospace industry, has successfully delivered the first ship set for the first A350XWB-900 aircraft to Airbus Bremen.
The slat support mechanisms work package, composed of 44 subassemblies, from which 26 slat tracks, 10 hinge arms, 4 drive lever assemblies, and 4 strut assemblies, will equip the prototype MSN 001 A350 plane. The A350 is scheduled for entry into service in 2014 with Qatar Airways as launching customer.
This successful delivery constitutes the first of the eight hundred A350 aircrafts in all its versions (A350-800, A350-900, A350-1000), which Asco has under contract as a sole source provider.
"Asco is proud to participate in this challenging technological aircraft, imprinted
with technologies that will benefit both the performance and the maintenance of airplanes, and that will contribute to sustainable green growth of the industry", said Christian Boas, CEO of the Asco group.
Asco has collaborated with its client since the conception of the project, and has applied one of its patents to design the slat support mechanisms. The leading edge high lift mechanisms design is a critical key for the performance of the aircraft on take-off and landing.
On the production side, Asco has installed new production lines incorporating lean principles to assure the on time and in quality delivery of the products.
The award of the contract and the first delivery constitute a recognition by Airbus of Asco's capabilities in research, design, production of high lift mechanism devices and complex precision mechanical subassemblies for the aerospace industry.
About Asco
Asco, incorporated in 1954, is a proven technology specialist and supply chain integrator in design, development, precision machining, processing, and certified assembly of complex high strength metallic aircraft components (high-lift devices, landing gear components, and engine attachments).
Asco is headquartered in Zaventem, Belgium with operating subsidiaries in Germany and Canada combined with service offices in Brazil and the US. Today, the Asco Group employs 1,300 people. Its worldwide, 100% Aerospace customer base includes most aircraft manufacturers as well as many related Tier-1 and Tier-2 suppliers.
http://www.asco.be
Contact:
Press@asco.be
asco@asco.be