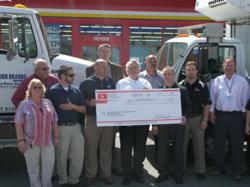 Donations were collected in more than 100 Kangaroo Express store locations in the Jacksonville area in November and December. The donations totaled $53,091.68.
JACKSONVILLE, Fla. (PRWEB) March 15, 2012
Kangaroo Express customers struck a mighty blow in the ongoing fight against hunger during the final two months of 2011 – creating 371,637 meals for local families through an in-store promotion benefiting Second Harvest North Florida, the Jacksonville area Feeding America food bank.
Donations were collected in more than 100 Kangaroo Express store locations in the Jacksonville area in November and December. The donations – totaling $53,091.68 – were raised with partner support from Champion Brands and MillerCoors. Kangaroo Express Regional Sales Director Robert Lopez presented the check to Second Harvest Executive Director Bruce Ganger during an event on Friday, March 2.
"This donation is critical," Ganger said. "We want to thank Kangaroo Express, MillerCoors and Champion Brands for their support of Second Harvest, their support of the mission of feeding hungry people and for their partnership moving forward. This donation will make an immediate impact. Thousands of families will have a meal on their table as a result of this. We intend to put it to good use immediately."
Champion Brands and MillerCoors helped spearhead the campaign, developing the concept and quickly putting it into place prior to the Thanksgiving and Christmas holidays.
"This program started as an idea from our MillerCoors chain team for Kangaroo Express," said Brett Preston of Champion Brands. "We were able to work locally with Will Rice, Robert Lopez and Second Harvest to customize as well as expand it for the Jacksonville market. We gathered all the Kangaroo Express management and watched a video on all the amazing things Second Harvest is involved in and the people they help. We knew we wanted to be part of that. It was the Kangaroo Express management and employees that really drove this program home and collected over $53,000 in only six weeks."
Kangaroo Express management and employees were happy with the outcome as well.
"Kangaroo Express is proud to present a donation to Second Harvest North Florida," said Will Rice, Kangaroo Express Division vice president. "The donations were collected from store guests in more than 100 store locations. We appreciate the opportunity to partner with Champion Brands and MillerCoors to support this campaign for our store guests and associates to help provide meals for north Floridians."
About Second Harvest North Florida
Second Harvest North Florida is the oldest and largest program of Lutheran Social Services of Northeast Florida. LSS was founded in 1979 by area Lutherans and business leaders to fill gaps in services offered in the community for people in need. Second Harvest gathers food from local and national sources, shares these resources with more than 500 nonprofit organizations in 17 north Florida counties and helps thousands of people each year who are hungry or at risk of not having being able to provide food for themselves and their families. In addition to collecting and distributing food, Second Harvest serves children in after-school programs through its Kids Cafe and BackPack programs and in summer camps through its Summer Lunch program. It also takes Mobile Pantries filled with Family Boxes of food to people living in neighborhoods with the greatest needs. Call 904.730.8234 for more information about any of these programs and services.