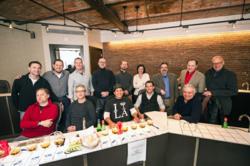 Ultimate Spirits Challenge is in the business of helping spirits companies achieve their sales goals, not by pandering to false aspirations but by telling the truth. With USC, you know the score."
New York, NY (PRWEB) March 15, 2012
The annual Ultimate Spirits Challenge (USC) was held at Astor Center in New York City on March 5-9, 2012 and is proud to announce the top spirits in more than 30 categories. USC began with a record number of contestants as more than 650 spirits were entered (up 15% from 2011) from more than 70 companies and 30 countries around the world.
Led by Ultimate Beverage Challenge (UBC) Founder and Judging Chairman F. Paul Pacult and Judging Co-Chairman Sean Ludford, fourteen of the world's foremost distilled spirits authorities, including award-winning authors, spirits buyers, journalists, educators, bar owners and consultants rated the world's finest distillates on USC's innovative multilevel system, rendering the most unassailable results in the industry. This remarkable super-group of experts named 31 Ultimate Spirits Challenge Chairman's Trophy winners and more than 80 Finalists.
Said UBC Founder F. Paul Pacult, "Since we started Ultimate Spirits Challenge we have seen double digit growth in number of entries each year. Whether a product receives a Chairman's Trophy Winner, a Finalist or a regular score, USC entrants are able to use their credible scores and insightful tasting notes to market and sell their products to bars, retailers and ultimately the consumer. USC is in the business of helping spirits companies achieve their sales goals, not by pandering to false aspirations but by telling the truth. With USC, you know the score."
Judges for USC 2012 were: Chairman F. Paul Pacult, Co-Chairman Sean Ludford, Jacques Bezuidenhout, Tad Carducci, James Conley, Dale DeGroff, Doug Frost, MS, MW, Jim Meehan, Steve Olson, Julie Reiner, Jack Robertiello, Andy Seymour, Marcos Tello and David Wondrich.
For a COMPLETE LIST OF RESULTS go to http://www.ultimate-beverage.com/usc2012results/
For DOWNLOADABLE HI AND LO RES IMAGES go to http://www.ultimate-beverage.com/2012USCpics
2012 ULTIMATE SPIRITS CHALLENGE CHAIRMAN'S TROPHY WINNERS:
VODKA - UNFLAVORED: Fuzzy's Ultra Premium
VODKA - FLAVORED: BAK's Bison Grass Zubrowka
GIN: Plymouth
GENEVER: Bols Barrel Aged
TEQUILA BLANCO: Milagro Select Barrel Reserve Silver
TEQUILA REPOSADO: Ambhar
TEQUILA ANEJO: Siete Leguas
TEQUILA EXTRA ANEJO:Jose Cuervo Reserva de la Familia
MEZCAL: Del Maguey Vida Single Village
RUM: Appleton Estate Reserve
RHUM AGRICOLE: Rhum J.M. White
CACHACA: INOX Original
AMERICAN WHISKEY: Balcones "1" Texas Single Malt
BOURBON: Blanton's Single Barrel
RYE: Masterson's
TENNESSEE WHISKEY: George Dickel Barrel Select
IRISH WHISKEY - BLENDED: Midleton Barry Crockett
IRISH POT STILL WHISKEY: Redbreast Cask Strength 12 Years Old
IRISH SINGLE MALT WHISKEY: Bushmills 16 Years Old
SCOTLAND - BLENDED MALT WHISKY: Johnnie Walker Green Label
SCOTLAND - BLENDED WHISKY: Buchanan's Special Reserve 18 Years Old
SCOTLAND SINGLE MALT WHISKY: Caol Ila 12 Years Old
WHISKY - CANADA: Caribou Crossing Single Barrel
WHISKY - WORLD: Japan: Yamazaki Single Malt 18 Years Old
ARMAGNAC: Delord 1978
CALVADOS: Calvados Drouin 25 Years Old
COGNAC: Frapin Château Fontpinot XO
GRAPPA: Jacopo Poli Sarpa Barrique
PISCO: Pisco Porton
LIQUEUR: Green Chartreuse
APERITIF: Lise Baccara Troussepinete Red
Ultimate Spirits Challenge…like no other competition and doesn't want to be
UBC's next 2012 Challenges:

ABOUT ULTIMATE BEVERAGE CHALLENGE
Ultimate Beverage Challenge (UBC) provides expert evaluation of wines and spirits for producers, importers and marketers through its three innovative annual competitions – Ultimate Spirits Challenge, Ultimate Wine Challenge and Ultimate Cocktail Challenge. Based on exacting standards, expert judges and rigorous methodology, UBC raises the standards of spirits and wine evaluation and supplies ratings and accolades to help companies build their brands with buyers, both industry and consumer. UBC was founded by F. Paul Pacult, Sue Woodley and David Talbot. Challenge and event photos, videos and press coverage can be found at http://www.ultimate-beverage.com.
UBC Contact: info(at)ultimate-beverage(dot)com, 1-347-878-6551
Facebook: http://www.facebook.com/UltimateBeverageChallenge
YouTube: http://www.youtube.com/user/ultimatebeverage
###