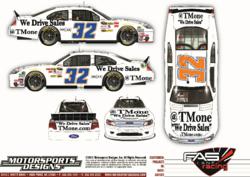 Mooresville, NC (PRWEB) March 16, 2012
FAS Lane Racing is proud to announce that TMone has increased their sponsorship involvement with the team's No. 32 entry in the NASCAR Sprint Cup Series and will serve as Primary Sponsor for this weekend's race at Bristol Motor Speedway. The leading Inside Sales Company, headquartered in Iowa City, IA will feature their "We Drive Sales" program on the No. 32 TMone Ford piloted by NASCAR veteran Ken Schrader in the running of the Food City 500 this Sunday. It will also feature the State outlines of South Dakota and Iowa, which represent the locations of the customer contact centers TMone uses to support its Fortune 500 clients.
"TMone has been with us each week so far this season and to have them increase their involvement and become a Primary Sponsor on our FAS Lane Racing Ford is a great testament to their belief in this team and the sport of NASCAR," stated FAS Lane Racing team owner Frank Stoddard. "The team is off to a solid start to the season and Bristol is always a fun one to have come up on the schedule."
The FAS Lane Racing team is coming off a west coast swing that saw them put together solid runs at Phoenix and last week in Las Vegas. Ken Schrader will be behind the wheel of the No. 32 Ford for the second week in a row and will be making his 48th career Sprint Cup Series start at the "World Fastest Half Mile" in Bristol, TN.
"We are very proud to have our name on a car driven by Ken Schrader; how can you not like that guy?" said John Burchert, TMone's COO. "We Drive Sales along with our Twitter handle @TMone covers the car head to toe, top to bottom. It's a very sharp car."
The running of the Food City 500 will air nationwide on FOX from Bristol Motor Speedway Sunday, March 18th with coverage beginning at 12:30 p.m. EST.
About TMone: TMone (pronounced T-M-one) is a leading U.S. call center business process insourcing firm specializing in Customer Relationship Management (CRM), Inside Sales and Customer Service Selling (CSS). When it comes to business-to-business (B2B) and business-to-consumer (B2C) customer interactions, TMone is unsurpassed in its ability to provide best in class results in performance, cost, quality, and client satisfaction. This approach has made it one of Inc. Magazine's Fastest Growing Private Companies of 2007, 2008, 2009, 2010, and 2011. Headquartered in Iowa City, Iowa with service centers in Des Moines, IA, North Sioux City and Spearfish, SD. To learn more about TMone visit, http://www.TMone.com or TMone's NASCAR Racing Facebook page.
About FAS Lane Racing: FAS Lane Racing was established in 2011 when Frank Stoddard's old team, Latitude 43 Motorsports, closed its doors. Stoddard formed his own team with the remaining crew members and purchased the cars and equipment from Roush Racing. Stoddard chose the No. 32 in tribute to his racing mentor Stub Fadden, who was a Busch North Series racer from New England who used the number 16, hence 16 x 2 = 32. FAS Lane Racing used a variety of drivers to secure a position in the Top 35 in owner's points thus ensuring them a guaranteed starting spot heading into the 2012 NASCAR Sprint Cup Series season. For more information on FAS Lane Racing, visit http://www.FASLaneRacing.com.