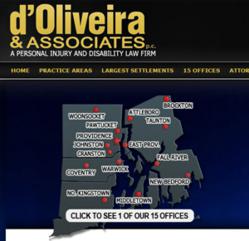 New Bedford, MA (PRWEB) March 17, 2012
d'Oliveira & Associates, P.C. announced today that it will be opening a new office on March 19th, 2012 in New Bedford, Massachusetts. The New Bedford office is one of the firm's fifteen locations throughout Massachusetts and Rhode Island. d'Oliveira & Associates has been servicing clients for 23 years. d'Oliveira & Associates originally had a location in downtown New Bedford which was used as a satellite office to meet clients in the greater New Bedford area. The new location at 930 Kempton St. will be fully staffed Monday through Friday with attorneys, paralegals and office support staff. The office hours will be 8:00 a.m. to 5:00 p.m.
Attorney D. Robin Gouveia will be working in this fully staffed office with founding Attorney Paul d'Oliveira. Paralegals will also work closely with attorneys as case managers for their clients. d'Oliveira & Associates, P.C. uses a company-wide system to ensure clients' needs are well met by the firm. Each client will have an experienced personal injury attorney to represent them and will also be assigned a Paralegal to monitor their case and update them about the progress of their claim.
Attorney Gouveia has successfully negotiated with insurance companies on behalf of her clients and has successfully litigated personal injury claims. Two paralegals will also be assisting clients from the New Bedford office. Both are experienced in handling injury claims and giving individualized attention to each client's needs. d'Oliveira & Associates is known for their successful representation of injured clients in claims regarding auto accidents, slip and fall injuries, disability benefits, and many other types of personal injury claims.
The New Bedford office is located at 930 Kempton St. (Route 6) in New Bedford. It is at the end of Route 140, next to Buttonwood Park Zoo and is on the SRTA bus route. It is easily accessible from Interstate 195 via exit 13 A or B onto Route 140 South. Opening this new office makes it even easier for injured plaintiffs in the greater New Bedford area to get quality legal representation close to home. For more information about the New Bedford office and legal services from d'Oliveira & Associates, P.C., please call 508-984-8400 visit Personal Injury Lawyer