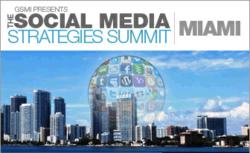 This is my second GSMI conference and it was better than the first! The speakers at GSMI events are amazing and never boring!
Miami, FL (PRWEB) March 19, 2012
GSMI Social Media Strategies Summit, June 2012
Following successful 2012 Social Media Strategies Summits in Las Vegas and Chicago with speakers from brands such as Warner Bros., Dunkin' Donuts, McDonalds, Weather Channel, NCAA, Intel and Cisco, GSMI is excited to host the Social Media Strategies Summit in Miami, Florida. Whether an organization is just starting out or a leader in the forefront of social media, Social Media Strategies Summit, Miami can help companies take their social strategy to the next level. Through hands-on workshops, case studies and keynotes, this Miami event will provide attendees with emerging strategies, tactics and the top do's and don'ts of social media marketing.
What:
This is a three day summit with interactive workshops, an abundance of case studies, keynotes and a new Latin focused consumer track. Speakers include innovators, celebrities, authors, award winners and thought leaders including Nicole German, Head of Marketing at LinkedIn, Frank Eliason, author and SVP of Social Media at Citi, Emily Crume, Sales and Business Development at Digg, Cristina Alfaro, External Communications Manager at McDonald's USA, Zach Chapman, Regional Vice President at Univision Interactive Media, Juan Jose Duran, Strategic Hispanic Content Development at YouTube and Christina Gonzalez, Associate Director, Multicultural Marketing at Verizon Wireless.
When:
June 12, 2012: Workshops
June 13 & 14, 2012: Summit
Where:
Miami Beach Resort, 4833 Collins Ave, Miami Beach, FL 33141
Who:
Chief Executive Officers, Chief Marketing Officers, Chief Branding Officers, VPs, Directors and Managers of: Marketing, Branding, Business Strategy, Customer Relations, Social Media, Media Sales, Public Relations, Online Community Managers, Social Media Assistants, Social Media Strategists, Business Development, World of Mouth Gurus, Community Marketers, Bloggers, Journalists, Ghost Writers.
How:
Detailed information about workshops and summit, including package details, prices and keynote speakers can be found at:
http://socialmediastrategiessummit.com/miami-2012.html
About GSMI:
GSMI is a leader in the industry of executive education, creating conferences, summits, workshops and training sessions that combine rich learning environments with the opportunity to network with today's most relevant thought- leaders, speakers and practitioners. GSMI's annual events have reached 70% of the Fortune 500 companies, in over 30 countries, and cover topics that today's leaders find most challenging and inspiring. More information about Global Strategic Management Institute and the Mobile Marketing Strategies Summit can be found at: http://www.gsmiweb.com.