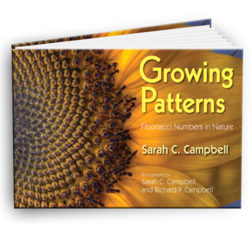 Columbus, OH (PRWEB) March 15, 2012
Sarah C. Campbell's children's book on the Fibonacci sequence is featured during the Fox TV show "Touch." During the nationally-televised premier episode, one of the show's main characters uses "Growing Patterns" to learn more about the Fibonacci sequence.
Fibonacci numbers are among nature's greatest mysteries. Named after a famous mathematician, the number pattern is simple: 1, 1, 2, 3, 5, 8, 13. . . . Each number in the sequence comes from adding the two numbers before it.
What's the mystery? The pattern crops up in the most unexpected places. It is found in the disk of a sunflower, the skin of a pineapple, and the spiral of a nautilus shell. No one knows how nature came up with the sequence.
Sarah C. and Richard P. Campbell introduce the Fibonacci sequence through a series of stunning photographs. Young readers will soon be seeing nature through new eyes, looking for Fibonacci numbers in daisies, pinecones, leaf patterns, seashells, and more. The book is published by Boyds Mills Press, a member of the Highlights family of companies.
Growing Patterns is available at Highlights.com.
Devoted to "Fun with a Purpose," family media brand Highlights for Children, Inc. (http://www.highlights.com/) has helped children become their best selves for generations. Highlights magazines are the best-read children's magazines in North America, and total more than 250 million impressions each year. Other Highlights offerings include a web site for kids (HighlightsKids.com), a children's book company (Boyds Mills Press), puzzle book clubs and mobile applications like My First Hidden Pictures. "Fun with a Purpose," Hidden Pictures and Goofus and Gallant are a registered trademarks of Highlights for Children, Inc.