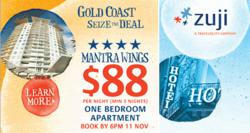 "With this latest solution, display is for the first time an ROI-positive channel, and we are generating actual business profit for ZUJI from display advertising." Marc Lomas, commercial director of Cadreon Australia
New York, NY (PRWEB) March 20, 2012
MediaMind, the leading independent provider of integrated digital advertising solutions, revealed the results of a new case study for ZUJI Travel, a Travelocity company, showing that with optimized re-targeting, display is now profitable.
"With this latest solution, display is for the first time an ROI-positive channel, and we are generating actual business profit for ZUJI from display advertising." Marc Lomas, commercial director of Cadreon Australia
Part of the global Travelocity group, ZUJI offers consumers travel deals from more than 400 airlines, 60,000 hotels and thousands of car hire, activity leisure providers and travel insurers. ZUJI needed a way to strengthen the connection between traffic to its sites and actual conversions, engaging consumers even after they left ZUJI's website.
ZUJI's vision was to create a personalized display campaign that would serve up the latest and best ZUJI deals relevant to each consumer's travel intent – anywhere they browsed on the web. ZUJI engaged Cadreon and MediaMind to develop a data-driven digital remarketing campaign.
The MediaMind platform was synced with ZUJI's live travel database so it could automatically search and pull new travel deals into the display ads. These personalized ads would then feed into Cadreon's vast network to be served to individuals wherever they were. The system also had to be time sensitive, dropping targeted ads after an appropriate time period or after the individual registered new site behavior on ZUJI, such as booking a flight.
"We might not be able to afford prime time advertising in Western Australia, for example, but we know we can target Perth users with special deals with online geo-targeting using MediaMind. It gives us deep reach that we couldn't otherwise afford." James Gaskell, managing director of ZUJI Australia
Using the solution, ZUJI could retarget users with relevant flight or holiday-related offers almost anywhere they went on the web. MediaMind technology also enabled ZUJI to track orders or basket value, in order to optimize marketing spend on sites that generated higher-value travel purchases.
Results
Six months after launch, the campaign hit or exceeded all its KPIs for CPA, reach and frequency. In fact, it is the first time in ZUJI's history that a display campaign has been profitable.

CTR +300%: Display CTR went from 0.04% (July 2011) to just under 0.12% (December 2011)
Basket value +25%: Order value is approximately 25% higher than the average for display
Low CPA: The campaign maintains a low CPA thanks to its lower burn rate in terms of overall impressions served.
A better customer experience: ZUJI customers are served relevant, intent-based creative that is actually helpful in travel planning.
For more information on MediaMind, visit http://www.mediamind.com
About MediaMind
MediaMind, a division of DG (NASDAQ: DGIT), is a leading global provider of digital advertising campaign management solutions to advertising agencies and advertisers. MediaMind provides media and creative agencies, advertisers and publishers with an integrated platform to manage campaigns across digital media channels and a variety of formats, including rich media, in-stream video, display, search and mobile. During 2011, MediaMind delivered campaigns for approximately 11,000 brand advertisers, servicing approximately 4,300 media and creative agencies across approximately 11,500 global web publishers in 75 countries.
International Media Contact
Dana Miller
dana.miller(at)mediamind(dot)com
T: +1 646 437 3737
North America Media Contact
Samson Adepoju
T. +1 646 723 1922
Press(at)mediamind(dot)com