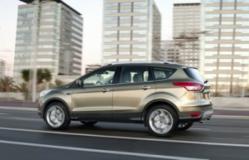 Under pressure: business drivers feel the heat and break the law in town and on motorway to meet crucial appointments
London, UK (PRWEB UK) 16 March 2012
WORK pressures in the post recession economy – meeting appointments, squeezing more from less on timtables – are making business car drivers and business van drivers some of the most dangerous on the road.
Perhaps it comes as no surprise to learn that a fifth of business drivers break the speed limit.
What's more alarming is that red lights don't seem to mean stop for a business driver at traffic lights with key sales appointments to reach.
Such rather concerning details have come to light following some research by commercial insurer RSA, which reckons that a quarter of business drivers are being put under pressure to get to appointments on time and meet ambitious sales or delivery targets, leading to dangerous and in some cases illegal driving practices.
They are even more concerning if you live in Scotland – business drivers are more likely to drive dangerously for work purposes than any other region, says the report. But worst of all are those company car driving sales reps whom RSA, which insures over two million vehicles on UK roads, names as the most dangerous business drivers.
They are closely followed by business van drivers who tend to ignore vehicle faults and haulage drivers who are not given enough time to sleep between shifts.
The RSA study considered the extent to which businesses and their employees were ignoring road safety to cope with the increased pressure to perform post-recession.
The findings show that a fifth of business drivers exceed the speed limit, while one in ten drive through red lights, undertake slow vehicles or drive when tired. In addition, as many as one in seven answer work calls while driving without using hands-free equipment, more than a third eat and drink on the move and a fifth smoke behind the wheel.
Commenting on the findings, Jon Hancock, managing director of business car insurance firm RSA Commercial, said: "This research demonstrates the frightening disregard for road safety that exists within some businesses and employees as the pressure to perform becomes more pronounced post-recession. Employers have a duty of care to ensure the legality of their vehicles as part of company car law as well as the safety of their drivers and, by extension, other road users, yet these findings suggest that due diligence is not being adhered to in all parts of the country or by all types of business drivers.
"Employers have a legal and a moral obligation to ensure that business vehicles are fit for purpose and that employees are fit to drive. Closer attention to road, vehicle and driver safety will not only reduce potentially fatal accidents, but also save businesses money on repairs and increased insurance premiums. The importance of implementing the right procedures and levels of protection should not be underestimated."
Sources:
Weboptimiser News: http://www.weboptimisernews.com
Business Car Manager: http://www.businesscarmanager.co.uk