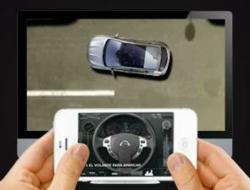 "Mobile is becoming a primary device for connecting with consumers," said Pedro Travesedo, Country Manager, MediaMind Spain. "We are committed to developing innovative ways to increase its impact on audiences."
Madrid, Spain (PRWEB) March 22, 2012
MediaMind, the leading independent provider of integrated digital advertising solutions, worked together with media agency OMD and creative agency Plan Comunicación, to enable the launch of Nissan's interactive campaign that connects the user's PC and smartphone. The interaction lets the audience experience the technical innovations of Nissan's Qashqai 360.
While marketers are interested in implementing multi-screen strategies, they are concerned about the technical complexity involved in connecting with users who jump from one screen to another. Nissan overcame this challenge and launched a digital campaign unprecedented in Spain using MediaMind technology and connecting with its audience by simulating the experience of driving the new Qashqai 360.
Nissan wanted to take another step forward in its constant search for creative innovation and user impact, through an interactive spot that connected mobile and PC screens to demonstrate the technical innovations of the Qashqai 360.
The campaign launched by OMD is the result of the long-term relationship between the creative teams of MediaMind and Plan Comunicación, who were tasked with turning a smartphone into a remote control that demonstrates to the user how easy it is to park the new Nissan Qashqai 360. The spot transmits an experience that is sophisticated yet simple, at the same time as giving the feeling of being behind the wheel of this new model of Nissan.
"Via a game in a push-down banner that synchronises with a mobile, users can enjoy a realistic experience of parking a Nissan Qashqai in extreme conditions, activating the camera, moving the steering wheel and using the four cameras. All of this with their own hands!" explains Guillermo Irure, Digital Accounts Manager at Plan Comunicación.
View demo here http://creativezone.mediamind.com/?ItemName=Nissan%20Qashqai%20con%20camara%20360
View video here http://www.youtube.com/watch?v=vdx4gia4bBY&feature=plcp&context=C46cc067VDvjVQa1PpcFPtUIDJfbTZZzu9VUpBH54798wiAcEM9ew=
"By monitoring the technological innovations of the Qashqai's new 360º camera, we developed a strategy that combines the innovative spirit of the brand with the search for new emotions. The campaign tries to pique the user's interest so that they can experience the new challenges that the brand offers them, through designs that combine the use of PC and mobile, demonstrating that Nissan is a brand committed to innovation and technological progress", says Mireia Vila, Digital Planner at OMD.
"Mobile is becoming a primary device for connecting with consumers," said Pedro Travesedo, Country Manager, MediaMind Spain. "We are committed to developing innovative ways to increase its impact on audiences."
About MediaMind
MediaMind, a division of DG (NASDAQ: DGIT), is a leading global provider of digital advertising campaign management solutions to advertising agencies and advertisers. MediaMind provides media and creative agencies, advertisers and publishers with an integrated platform to manage campaigns across digital media channels and a variety of formats, including rich media, in-stream video, display, search and mobile. During 2011, MediaMind delivered campaigns for approximately 11,000 brand advertisers, servicing approximately 4,300 media and creative agencies across approximately 11,500 global web publishers in 75 countries.
International Media Contact
Dana Miller
dana.miller(at)mediamind(dot)com
T: +1 646 437 3737
North America Media Contact
Samson Adepoju
T. +1 646 723 1922
Press(at)mediamind(dot)com