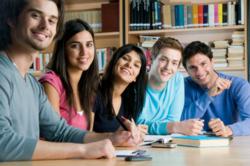 We are excited to see who rises to the challenge of this year's naming scholarship and what lies ahead for the future naming of this technology
Minneapolis, MN (PRWEB) March 15, 2012
To inspire college students to discover their creativity, strategic thinking, and linguistic capabilities through product naming and company naming, Strategic Name Development, a brand naming company based in Minneapolis, Minnesota, is offering the third annual America's Next Top Namer Scholarship for $2000.
To qualify, candidates must be a student attending a college or university within the United States and enrolled in a full-time undergraduate program majoring in Linguistics, English, Marketing or Mass Communications with a minimum 3.0 cumulative GPA.
Candidates must develop five (5) unique name candidates for an intelligent personal digital assistant and academic navigator that works on any tablet, smartphone, or computer, anytime, anywhere. This navigator is designed to support every facet of the collegiate journey.
Strategic Name Development would like to congratulate last year's applicants who were faced with the challenge of developing a new brand name for an electric vehicle that had the capability to be driven continuously through wind energy generated by the car's own propulsion.
Kaylie Foster of the University of Arizona emerged from all contest entries to become the 2011 America's Next Top Namer Scholarship winner. Kaylie developed the winning name candidate Mēno, a word derived from the Greek root μένω (transliterated as menō), meaning to continue to be; to last or endure. In Italian meno translates to 'less' or 'fewer,' as this vehicle uses fewer fossil fuels.
"We are excited to see who rises to the challenge of this year's naming scholarship and what lies ahead for the future naming of this technology," said William Lozito, Chief Branding Officer of Strategic Name Development.
To learn more or to submit your scholarship application click here
About Strategic Name Development, Inc.
Strategic Name Development, Inc., a brand naming company, has expertise in global product naming, company naming, tagline development, and brand architecture. We utilize our global capabilities while combining linguistics, creativity, and brand name research to build global brand names that are instantly recognizable, memorable, trademarkable, and strategically sound. We augment our naming expertise with our global proprietary Name DNA Validation® research methodology, which compares name candidates against our proprietary normative database.
For more information on Strategic Name Development visit http://www.namedevelopment.com.
Check out Name Wire® - The Product Naming Blog.