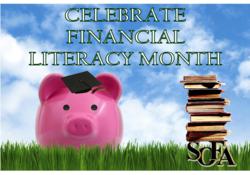 Houston, TX (PRWEB) March 16, 2012
The Houston Midtown chapter of the Society for Financial Awareness announced today that comedian and professional speaker Steph Dewaegeneer has come on board as the Mistress of Ceremonies for the April 5th Financial Literacy event at The United Way, located at 50 Waugh Drive, Houston, Texas 77007. The luncheon's topic is "Financial Literacy: From the Boardroom to the Classroom".
S.O.F.A has teamed up with the Texas Council on Economic Education, Money Management International, FamilyMint.Com, The City of Houston and ComedySportz to bring financial education courses to Houston area classrooms.
"I've been a professional improv comedian for over 20-years. During the 10-years I lived and worked in Chicago, I was always impressed with the financial professionals who would reach out to the performing arts community to share their knowledge and teach practical money management skills. We creative types aren't always 'numbers people' and don't always think past our next 'gig'. Educating people about good sense, dollars & cents, and a terrific organization like S.O.F.A. proves that talent comes in many shapes, and isn't just limited to the stage," said Dewaegeneer.
"The purpose of the luncheon is to formally announce our fund raising campaign, during which we will collect funds to be donated to select Houston schools. In conjunction with our donation, we will be providing financial education classes at the schools for faculty, students and parents," said Christopher Hensley, S.O.F.A.'s President.
The luncheon is free and open to the public, but registration is required. Donations are suggested and corporate sponsors are needed. In addition, S.O.F.A will be hosting numerous financial education workshops at companies throughout the Houston and surrounding areas, in support of Financial Literacy Month.
If you would like S.O.F.A. to host a workshop at your company or if you would like more information about this event, please visit http://www.houstonmidtownsofa.bbnow.org, or contact Christopher Hensley, S.O.F.A's President, at (832) 231-9697.
About S.O.F.A.
The Society for Financial Awareness is a national non-profit educational speaker's bureau that provides financial education to businesses, churches, synagogues, civic organizations, city and federal governments, as well as other non-profit organizations. SOFA's mission is to end financial illiteracy, one community at a time, by conducting financial education workshops across the country.
Contact:
Christopher Hensley
Houston Midtown Chapter of the Society for Financial Awareness
832-231-9697
christophhensley(at)sbcglobal(dot)net