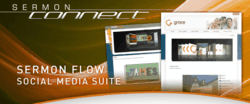 "Many of you have already been streaming for a while; with an intuitive iTunes-like visual organization and look, [Sermon Flow] simplifies the archive of audio and video content your church is producing and has produced on a weekly basis."
Austin, Texas (PRWEB) March 17, 2012
faithHighway, a web design and software as a service company, received the Best of the Best Award in both Web Design & Development Tools and Service Streaming Tools categories!
According to the October 2011 Issue of Worship Leader, "Every year, the October issue of Worship Leader is the Editor's Picks for the most notable resources that have affected worship leaders and their teams in the past year."
The magazine describes the faithHighway and Sermon Flow selections:

Web Design & Development Tools - "[faithHighway] build[s] great-looking custom websites with an intimate knowledge of Church needs and ministry objectives. Their custom sites range between $3,000 and $15,000+ depending on desired site features."
Service Streaming Tools - "Many of you have already been streaming for a while; with an intuitive iTunes-like visual organization and look, [Sermon Flow] simplifies the archive of audio and video content your church is producing and has produced on a weekly basis."
Worship Leader creates this Best of the Best list to help churches and ministries. In Worship Leader's press release about the list on October 5, 2011, the managing editor, Jeremy Armstrong, is quoted as saying, "With the abundance of worship-related products now available, knowing how to make the best choices for your church, based on size, budget and church orientation can leave those 'in charge' overwhelmed."
faithHighway and Sermon Flow were selected for this list based on the following process according to that same press release. Worship Leader "quer[ied] worship leaders and media teams around the world, sift[ed] through myriad suggestions from the leaders in worship and worship technology to come up with 7 groupings, 38 categories with 5 -15 items in each list."
faithHighway offers the following Website Design and Development Tools:

Outreach – Attract new visitors and reach the community with tools like share wall, social media design, and church CRM software.
Connect with Members – To form an online community with prayer wall, small group managers, and embedded forms.
Professional Design – To present a consistent brand image across multiple channels.
Manage Content – To keep website content up-to-date and relevant to site visitors.
And More
Sermon Flow is a complete Service Streaming Tool, which includes:

Go Social – Getting audio and video items onto social networking sites with share options for Facebook and Twitter
Navigate media- Flip through the sermon series (similar to the iTunes CoverFlow)
Offer an unlimited number of sermon podcasts and mp3 downloads
Sell media online with a hassle free, turnkey ecommerce solution
Store unlimited amount of media online
Track media and first time visitors with usage reports
Send out html broadcast emails
And so much more
About faithHighway
The goal of faithHighway is to equip local churches and ministries with powerful, top-notch tools that they can use to reach their community in affordable and cost effective ways. As the nation's leader in church solutions, faithHighway has served thousands of churches, from church plants to large congregations, for over a decade by providing cutting-edge custom church websites, robust award winning media centers, powerful outreach evangelism television commercials, logo design, and full media placement services to the church market, including TV, radio, billboards, online advertising, and other marketing mediums.