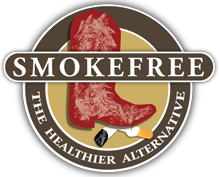 (PRWEB) March 17, 2012
E Cigarette India company, SMOKEFREE has emphasized on the health benefits of using an Electronic Cigarette in the latest of its blog sections. It has dealt with the damages that a traditional cigarette can cause to a smoker and the passers by along with him. Many smokers say that they can't answer a ringing phone or turn the ignition in their cars without lighting a cigarette.
For them, the feel of a cigarette in their hand is as important, maybe more important, than the nicotine they're inhaling. That tactile need explains a lot of the ruckus that arose when smoking was banned in bars and restaurants. For a segment of the population, a beer and a smoke go hand-in-hand, like peanut butter and jelly. This is the reason that SMOKEFREE is creating awareness about the ill-effects of a traditional tobacco cigarette.
"An electronic cigarette looks like a cigarette, feels like a cigarette, lights like a cigarette and produces a puff of "smoke," all without the yucky bad stuff that smokers inhale into their lungs and spew into the air. Best of all, you can use them anywhere, including airports and restaurants, because they produce vapor, not smoke. It's the smoke that's harmful in cigarettes, not the nicotine", said Shagun Gupta, Head of Social Media Marketing at SMOKEFREE.
The manufacturer of SMOKEFREE, one major brand of e cigs, said the primary ingredient in the cartridge is propylene glycol, which is used in food coloring and flavoring, as an additive to keep food, medicines and cosmetics moist, and in machines that simulate smoke. It's what creates the vapor mist in e-cigarettes. Drug companies that manufacture smoking cessation products give millions of dollars to organizations like the American Cancer Society, he said, and they aren't looking for competition. They consider an e cigarette competition even though most don't market themselves as a cure-all for smoking.
As a leading Electronic Cigarette company in India, SMOKEFREE is amongst the earliest companies to pioneer the E Cigarette concept in the country. They are the pioneers of innovative electronic smoking products, that are more commonly known as Electronic Cigarettes, or E-cigarettes. The Company was established in 2011 and has invested heavily in R&D in order to bring to the market the most innovative range of electronic smoking (electronic cigarettes ) products. The company continues to pride itself on consistently delivering the highest quality products and the most authentic e-cigarette smoking experience.