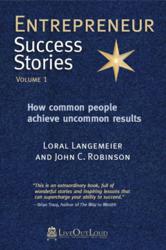 Whether you are employed, underemployed, or unemployed, this book will inspire you to follow your passion and create a successful business
San Francisco, CA (PRWEB) March 15, 2012
Kathy Scheiern, owner and lead consultant of San Francisco consulting firm PurposeWorks LLC, knows a thing or two about what it takes to be a successful entrepreneur. Scheiern has developed a leading edge consulting and executive coaching company from the ground up, and has managed to help hundreds of people achieve ongoing success.
On Saturday, March 31, Scheiern recommends attending a book signing event for the newly released book, Entrepreneur Success Stories Volume 1, at Florey's Book Co. in Pacifica, California. She urges people thinking of starting their own business or struggling to establish their own business in the market to come listen to co-author Janet Arline Barker talk about the book.
Entrepreneur Success Stories Volume 1 is a collection of stories and insights from ambitious people who have achieved incredible entrepreneurial success. Each chapter focuses on valuable advice from different entrepreneurs. It depicts marketing strategies for new and traditional media, a blueprint for starting a business, and methods for fine tuning an existing business.
"Whether you are employed, underemployed, or unemployed, this book will inspire you to follow your passion and create a successful business," explains Scheiern.
Janet Arline Barker, author of the chapter called "Go Where the People are, Go Where the Money is: An Artist's Strategy for Offline Marketing," will sign copies of the book, accompanied by an art show of her recent paintings and art products as described in the chapter.
Self described as an "art-trepreneur," Barker is the owner and president of Barker International Group LLC. She is a plein air painter, graphic designer, photographer, and assistant art director based in the Bay Area. During the signing, Barker will also read selections from the book by people who have conquered the challenges of starting or running a business. She will also demonstrate painting with passion and spontaneity and lead a discussion on how to turn a hobby into a business.
This event is an opportunity to network and find a mastermind group, business coach, or personal coach. It will provide marketing tips for artists, photographers, and arts and crafts creators. The book is organized in a user friendly format, with stories that address every aspect of owning and operating a business.
"Achieving unlimited success in business and in life is within everyone's reach. You can use Entrepreneur Success Stories as your own vision board for attracting wealth to all areas of your life," said John Assaraf, CEO of PraxisNow.com and New York Times Best Selling author.
The signing will take place from 2 to 4 pm on Saturday, March 31 at Florey's Book Co., located at 2120 Palmetto Avenue, Pacifica, CA 94044. For more information, contact Florey's Book Co. at (650)-355-8811 or FloreysBookCo(at)yahoo(dot)com.
About PurposeWorks LLC
PurposeWorks LLC is a leading edge San Francisco human resources consulting firmand executive coaching company. They assist individuals and organizations with their growth and transformation efforts. Specifically, they help people achieve ongoing success by introducing and supporting the development of competencies in skill sets such as values-driven leadership, trust building, and employee empowerment. By balancing the importance of what is rational and readily measured with what is grounded in purpose and meaning, in integrity and trust, and in people and relationships, PurposeWorks LLC opens the doorway to next-level thinking and performance improvement for individuals and organizations.
Dr. Kathy J. Scheiern, owner and lead consultant for PurposeWorks LLC is a Certified Public Accountant who has over 25 years of international and domestic experience in providing performance improvement consulting to organizations and individuals. She holds a Ph.D. in Interdisciplinary Studies with a concentration in Organization Transformation, and a Masters of Science in Accountancy with an emphasis in International Business. She is a Certified Cultural Transformation Tools Consultant (providing values and cultural capital assessments and transformation support), a Certified Systemic Constellation Work Facilitator (in both Organization and Family Constellations), and a founding member of The Values Collaborative. As a San Francisco business coach, she has conducted numerous workshops on effective change processes, using a variety of tools and techniques to assist clients in transforming both their personal and organizational lives.
About Janet Arline Barker
Janet's life work has been sharing the beauty and wonders of nature with others. She taught science and outdoor educational programs to children in Colorado, Montana, California, and Washington, D.C. As a creative teacher, she merged art with science to enhance observation and learning skills in her students. Janet worked 18 years in the creative arts industry as a graphic designer, illustrator, photographer and artist. She is currently working full time as an art-trepreneur, making plein air paintings, teaching art classes, leading nature adventures, and bringing art to people who never venture into art museums or galleries. For her, plein air painting and photography represent peaceful and expressive journeys. It's like a dance with brush or camera in hand, propelled by color, and infused with fresh air and the sounds of nature.