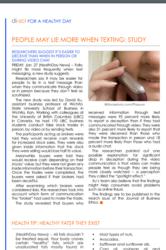 These ePrint newsletters provide the easiest way to get accurate and actionable health care news and tips delivered daily to your printer.
Seattle, WA (PRWEB) March 17, 2012
Eggs are bad for you and lead to high cholesterol. No, eggs are one of Nature's best foods and in moderation, are good for you. Women over 40 should get a yearly mammogram. No, women in their 40's don't need to get mammograms at all, and women in their fifties should only get a mammogram every two years. With all the conflicting medical information out there, how can consumers get reliable information about health care without spending hours surfing the web?
Three new newsletters from Digital Scirocco and HP can help, and they couldn't be simpler to get: the newsletters are delivered daily to any HP web-enabled printer, allowing you to pick them up and enjoy them with your morning coffee.
Living Healthy
Living Healthy gives you daily encouragement to improve your health, with actionable tips and information you can use right away. Content is drawn from licensed sources around the web, including Physicians Briefing and Health Day. Register for this newsletter by going to http://bit.ly/AiDJu1.
Focus on Health
Focus on Health provides health care news for consumers, particularly those with chronic diseases. Supplemental sections are available for those affected by diabetes, heart disease, cancer, Alzheimer's disease and arthritis. Register for this newsletter by going to http://bit.ly/zYI67k.
HealthPro Daily
HealthPro Daily provides health news for health care professionals, covering breaking trends, research abstracts and short facts. It also features supplemental sections for physicians, nurses and administrators. Register for this newsletter by going to http://bit.ly/zphmmz.
Digital Scirocco is the world's first Content Exchange, helping companies locate, purchase and integrate quality content into their customer communications to engage buyers, differentiate their brand, and ultimately increase sales and customer retention. Digital Scirocco partners with content providers like Health Day, Physicians Briefing, YellowBrix, Venture Beat, Gizmodo, ABC News and Dow Jones to provide quality content, individually selected for each user.