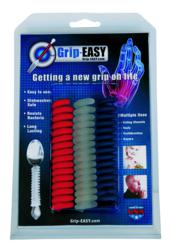 Hutto, TX (PRWEB) March 18, 2012
The old adage of 'get a grip' can sometimes be disturbing for anyone who experiences afflictions such as arthritis, deformities or weakness in their hands. Trying to pick up an item as simple as a pen, fork or even a razor can be frustrating when your fingers just can't grip them.
That's where Grip-Easy comes to the rescue! The creation of brothers Steve and Mike Hines of Round About Products who saw the challenge, and produced a viable solution. Hines used his long history of developing different plastic compounds for hand grips in the sporting goods industry to hasten the development of the Grip-Easy and make it a must have for anyone suffering hand afflictions that can impede a proper grip.
There are over 100 types of arthritis (or hand afflictions) and many of them can hinder how we use everyday small items. Using a pen, once an easy task but now a challenge, can again become a joy when you put a Grip-Easy coil on it. Hand pain or a deformity may have changed the way people use small items like utensils or even a screwdriver, but Grip-Easy coils help regain your small-item world.
Grip-Easy is easy to use. These unique plastic coil covers are easily installed or removed in a matter of seconds. They work on just about everything you use and because they're available in several colors (red, blue, and clear), everyone in your home can have their own color-coded set.
Grip-Easy is dishwasher-safe and has endured the rigors of repeated dishwashing cycles without losing its shape or elasticity. The unique plastics used in the molding process are resistant to most common household chemicals and the closed-pore surface resists bacteria build-up.
If you or a loved one has problems with arthritis or other ailments that hamper the handling of small items, Grip-EASY is YOUR solution. Order your Grip-EASY set now and have a better tomorrow! Visit our website at http://www.grip-easy.com/ or call us at (512) 642-3821.
Thanks to Grip-Easy Coils, now you CAN get a grip!