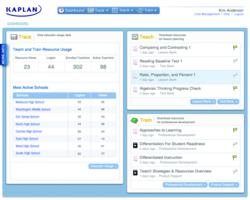 Our collaboration with Kaplan empowers our teachers to achieve the vision of Common Core standards, and help them accelerate both state test preparation and college readiness.
New York, NY (PRWEB) March 15, 2012
To help teachers transition from current classroom instruction to the Common Core State Standards, Kaplan K12 Learning Services and Teach For America are teaming up to provide teachers with instructional resources. Starting this month, all Teach For America teachers will have access to Kaplan K12's Teach!® Strategies & Resources, an online toolkit with robust instructional and professional development assets to support teacher development as the new academic benchmarks shift from policy to practice.
Based in pedagogical best practices and aligned to state-specific and Common Core standards, Kaplan's Teach!® Strategies & Resources is a Web-based platform with resources to support rigorous differentiated instruction, training and assessment. It includes an online library of more than 3,000 lessons, assessments, quizzes and videos that Teach For America teachers can easily search and filter by grade (2-12), subject area, state-specific standards, and/or Common Core State Standards, and find immediate, actionable tools for classroom use.
"The goal of the Common Core standards is to provide a consistent, clear understanding of what students are expected to learn to be successful in college, and at Kaplan K12, helping students prepare for college has always been at the heart of what we do," said Justin Serrano, president of Kaplan K12 and College Prep. "Working with Teach For America, we can provide thousands of talented and dedicated teachers with practical tools and resources that help them bridge the gap between preparing their students for current state tests and implementing upcoming Common Core standards in the classroom."
"We're committed to ensuring that our teachers have the support they need during this time of transition, and we're pleased to work with Kaplan to provide them with such a robust toolkit," said Valerie Braimah, vice president, Community Learning and Engagement, Teach for America. "Our collaboration with Kaplan empowers our teachers to achieve the vision of Common Core standards, and help them accelerate both state test preparation and college readiness."
Teach! Strategies and Resources is $1,900 for an annual school license for all teachers and $59 for an annual individual teacher license. For more information, please go to KaplanK12.com/Teach.
The Common Core State Standards are an effort led by the Council of Chief State School Officers and the National Governors Association to define the knowledge and skills in English language arts and mathematics that students will need upon high school graduation. Forty-five states have adopted the Common Core State Standards and are turning their attention to the critical work of how and when to implement the new standards.
About Kaplan K12 Learning Services
Kaplan K12 Learning Services (kaplank12.com), a unit of Kaplan Test Prep (kaptest.com), partners with schools to measurably propel student achievement and accelerate college readiness. Kaplan K12 offers state test readiness programs to help students meet and exceed state standards, and college preparation solutions that support students as they prepare for college entrance exams and the admissions process. Its solutions also provide teachers with robust Kaplan K12 resources and professional development support to impact achievement in their classrooms. Kaplan Test Prep is a division of Kaplan Inc. (kaplan.com), a subsidiary of The Washington Post Company (NYSE: WPO).
About Teach For America
Teach For America works in partnership with communities to expand educational opportunity for children facing the challenges of poverty. Founded in 1990, Teach For America recruits and develops a diverse corps of outstanding individuals of all academic disciplines to commit two years to teach in high-need schools and become lifelong leaders in the movement to end educational inequity. Today, more than 9,000 corps members are teaching in 43 urban and rural regions across the country, while nearly 24,000 alumni are working across sectors to ensure that all children have access to an excellent education. For more information, visit http://www.teachforamerica.org and follow us on Facebook (facebook.com/teachforamerica) and Twitter (twitter.com/teachforamerica).