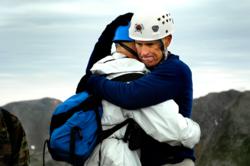 Salem, OR (PRWEB) March 20, 2012
Outward Bound for Veterans, a non-profit program that aids returning service members and recent veterans through challenging wilderness trips, received a significant boost recently with a $1.2 million donation from Holiday Retirement (http://www.holidaytouch.com), the industry leader with more than 300 independent senior living communities.
The donation funds an entire trip – including flights, food, lodging, supplies and instructors – for 600 military veterans of Iraq and Afghanistan wars.
Originally developed for Vietnam War veterans, Outward Bound trips encourage healing and rebuild confidence for veterans struggling to readjust to civilian life. Participants are given the opportunity to escape daily routines and share unforgettable experiences with other veterans in some of the country's most stunning locations.
"We are grateful to the residents of Holiday Retirement communities who gave so generously in support of our country's young returning veterans," said Lee Skold, Outward Bound National Chair. "Thanks to these donations, hundreds of young men and women will have the unique chance to experience the wilderness and beauty of the country they fought to protect."
Home to approximately 12,000 veterans and spouses, Holiday Retirement's communities collected donations during a three-month fundraising effort. Holiday Retirement then matched every dollar donated.
"Veterans are such a major part of our communities, and this was an excellent opportunity for us to give back to a newer generation of veterans in a very meaningful way," said Mark Prince, Holiday Retirement's executive sponsor of the Outward Bound campaign. "Providing this opportunity is the least we could do for them."
William Reis, 25, was one of the veterans who participated in a Holiday Retirement-sponsored trip. He served one year as an army machine gunner in Baghdad, Iraq. While his family and girlfriend celebrated his return, Reis struggled to find peace.
"I got really depressed after my tour and came back with a different view on life," Reis said. "I felt quite numb and didn't know how to relate. What made me human was gone."
He is certainly not alone. Hardened by the realities of war, thousands of returning service members face mental illness, drug and alcohol abuse, failed personal relationships and unemployment.
Outward Bound provides an outlet to help veterans successfully reacclimate. Reis' Outward Bound trip included eight days of dog sledding through the Boundary Waters of Minnesota. Other adventures include backpacking, canoeing, mountaineering, rafting, rock climbing, and sailing.
"It gave me a new lease on life by opening my eyes that things can get better," Reis said. "The program does what it says it does – it gives you a fresh start. For an unemployed veteran to come home and feel depressed … to have a group that will send you dog sledding and give you a break from the stress and the chaos with guys who've gone through similar struggles … it was the coolest thing I've ever done. It's hard to explain in words what this did for me and some of my friends."
To learn more about the Outward Bound for Veterans program, visit http://www.outwardbound.org. To learn more about Holiday Retirement, please call 503-586-7289.
# # #