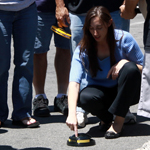 I wish Ambassador Energy's prep class had been around when I took the exam.
Murrieta, CA (PRWEB) March 16, 2012
One of the first women to become certified as a NABCEP PV Installer, Catherine Kelso, is now Director of Training for Ambassador Energy [AE]. "This exam freaked me out when I took it," she said. "I had heard from so many people in the industry that this is the hardest credential out there. Everyone also agreed that it is the most important. I signed up for it months before the exam, had done a ton of solar installations, studied on and off, but I was still really nervous about passing. I wish Ambassador Energy's prep class had been around when I took the exam."
Fortunately, Catherine passed and was immediately marketable to a higher employment tier within the industry. She said, "If I had not been NABCEP certified, I would have never been hired here at Ambassador Energy. Just last month, I took the NABCEP PV Technical Sales exam and am awaiting the results. I figure the more NABCEP certifications I have, the more long-term job security I can enjoy. To me, it is job insurance."
As Ambassador Energy has opened their education division, led by Kelso and known as Ambassador Energy College, they announce their 2012 Solar PV Training Team, whose training calendar includes: Solar PV Design and Installation 32-hour course and NABCEP Entry Level exam; Prep courses for NABCEP PV Technical Sales and PV Installer; Advanced PV Design and Installation [qualifying for NABCEP continuing education credits]; AE's proprietary New Agency Boot Camp; AE's Solar for Electricians and Solar for Contractors classes.
The Ambassador Energy College training team consists of:
Steve Fulgham - Co-Founder, CEO and Visionary of Ambassador Energy
Steve holds a C-46 Renewable Energy Contractor license, a B General Contractor license, the NABCEP PV Installer Certification (#031310-74) and the NABCEP PV Technical Sales Certification (#012911-35). He cut his business and technology teeth in the computer hardware and software industries, rising to Senior VP of a Fortune 100 software company. Later, he built custom homes and light commercial as a GC and saw the future in solar, when in 2007, he crafted the unique Ambassador Energy Agency/EPC/Training model. Today, Steve heads Ambassador Energy and facilitates special training segments.
Catherine Kelso - Director of Training
Catherine is one of a small group of women in the solar industry who has earned the NABCEP PV Installer Certification (#031310-124) and, coming soon, the NABCEP PV Technical Sales Certificate. She launched her solar career in 2005 in PV technical support and battery-based inverter repair, providing even more value with her off-grid knowledge. Today, she leads the Ambassador Energy training team.
Kelly Smith - Co-Founder and President of Ambassador Energy
As the official head-cheerleader of Ambassador Energy, Kelly brings a vast professional sales portfolio to the solar industry. She thrived in sales and marketing for two decades after earning her Journalism degree from SMU. Today Kelly, who has earned NABCEP EL, teaches segments in the curriculum, which are the Ambassador Energy sales "secret sauce" for our Agency family. With a few hours of instruction from her, new solar professionals glean insightful marketing nuggets, while established sales organizations get that "shot in the arm" that comes from her expertise and infectious enthusiasm for the solar industry.
Kurt Sorensen - Director of Field Support
Kurt is a licensed C-10 Electrician, a NABCEP EL graduate and soon-to-be a NABCEP PV Technical Sales professional. Kurt has worked in the field of construction since he was able to drive, migrating seamlessly into solar PV and solar thermal years ago when Ambassador Energy was founded. Today, Kurt teaches PV installation segments of the training courses in Ambassador Energy's training facility and spearheads training opportunities in the field real-time at real installations throughout the country.
About Ambassador Energy
Ambassador Energy [AE] has a three-pronged business model, including Ambassador Energy College Solar Training, the Ambassador Energy Agency Program and Ambassador Energy, an EPC contractor. On staff are NABCEP Certified PV Installers, NABCEP Certified PV Technical Sales professionals [Fulgham/Kelso] and multiple NABCEP EL graduates. AE Agencies are nationwide. Ambassador Energy EPC installs PV throughout California.