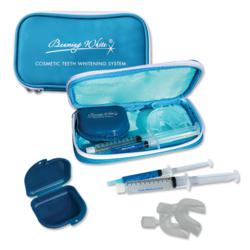 Beaming White not only manufactures its own products in the USA, but we also export them to China.
Guangzhou, China (PRWEB) March 17, 2012
It is the stated goal of China to reduce the ratio of dentists to persons from the current approximate ratio of 1:12,000 to 1:4,000 or 1:5,000 by 2030, according to Dental South China - the earliest-established dental exhibition in China.
Beaming White, a leading United States teeth whitening manufacturer, participated as an exhibitor at the Dental South China International Expo 2012. It was Beaming White's third consecutive year as an exhibitor.
The Dental South China International Expo 2012 was held in Guangzhou, China from March 7th to March 10th and included multiple academic activities and 10 different dental exhibit categories ranging from dentistry furniture to oral care products. Also attending as exhibitors were Colgate-Palmolive (China) Ltd., Wrigley Confectionary (China) Ltd., Ultradent Products, Inc., and an estimated 500 other exhibitors from 18 different countries.
"While most of our competitors can only think of buying cheap products in China, Beaming White not only manufactures its own products in the USA, but we also export them to China," said Luis Lajous, Founder and Chief Executive Officer of Beaming White. "You'd think that Chinese dentists, which don't make much money, would be buying the cheapest products possible, but they are actually happy to pay up to 20 times more for our Pro Whitening Kit than they can pay for teeth whitening kits made in China."
Beaming White's bilingual China Manager was present at the expo, helping with both the Chinese customers as well as the foreigners that stopped by the Beaming White booth. Beaming White exhibited at the expo primarily to find distributors in other countries. Not only was it successful in finding a select few new distributors in other countries but it also nearly sold out of all of the hundreds of sample kits that it took to the expo.
Beaming White's home whitening kit was very popular at the Dental South China International Expo this year, as their Pro Kit always has been. Apparently, more dentists in China are sending their patients home with follow-up home whitening kits. Take-home kits are an additional revenue stream for dentists. Although not as quick as a professional teeth whitening treatment, or laser teeth whitening as most people know it in the industry, a good teeth whitening system for home bleaching also gives incredible results and is a much more affordable teeth whitening option. Beaming White has become one of the leading suppliers of take-home bleaching kits in North America due to all the distributors it trains and supplies.
"Overall it was a pretty good show and we feel it was worth the effort," concluded Lajous, "We'll be at Dental South China 2013 without a doubt and hope to build on our past success at the trade show."