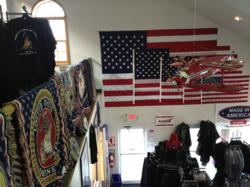 The flag represents a living country and is itself considered a living thing.
Elma, New York (PRWEB) March 17, 2012
The Made In America Store and ACE Flags Come Together To Bring New Flags And Awareness About Our American Flag
With Spring coming into full effect, the Made In America Store and Ace Flags are coming together with new flag designs and some awareness that commonly gets overlooked. Ace Flag, which distributes 100% American made flags, are one of the many vendors that make the commitment of being USA made.
The Made In America Store, which sells 100% American made products, has teamed up with Ace Flag to offer new and improved American flags. The store previously only offered a few sizes of American flags but now carries a wide range from hand held flags, garden flags and different military flags of each branch. This change gives consumers options to how they want to present their flag, instead of the traditional flagpole.
Consumers can shop for all American made flags at the the Made In America Store website
Ace Flag was founded in 1937 and since day one the company has been committed to offering their customers quality products and information. These characteristics and commitment to 100% American made flags are what makes this partnership a perfect match. Both companies want to make a note that quality is a prime trait that needs to be present in each and all of their products in order to sell.
With the new selection of flags that aim to appeal to everyone, the Made In America Store and Ace Flag want consumers to be aware of where their flags are made. A country's flag is more than just a symbol of which nationality an individual is from, and the American flag is no exception. The history of the American flag is full of pride and obstacles that were overcome to make it the nation that is is today.
"No disrespect should be shown to the flag of the United States of America." Is quoted from Section 8 of the National Flag Code. "The flag represents a living country and is itself considered a living thing."
The Made In The America Store and Ace Flag want to emphasize how important it is to buy American, especially when it comes to the national flag. The American flag is everything this country stands for, the American dream, democracy and the freedom everyone has today. Buying an all American made flag supports these mentalities and shows that consumers stand behind the message. Buying an American flag that was made overseas is almost hypocritical to the cause.
Consumers can visit the Ace Flag website to view proper flag etiquette and other news about the American made company.
"Our flag is our national ensign, pure and simple, behold it! Listen to it! Every star has a tongue, every stripe is articulate." -Robert C. Winthrop (1809-1894), Senator from Massachusetts
The Made In America Store is located at 900 Maple Road in Elma, New York and is committed to selling 100% American manufactured products. You can visit http://www.SaveOurCountryFirst.com for more information or shop our catalog of over 290 vendors that are devoted to producing USA made products. Consumers can also keep up to date news articles, events, photos and contests with Facebook, Twitter, Google+, Pinterest and Tumblr!