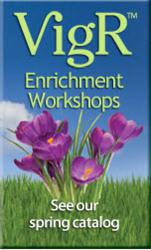 We are so pleased to be able to provide this caliber of instructor and content to our community.
Plymouth Meeting, PA (PRWEB) March 16, 2012
Friends Life Care, a non-profit Pennsylvania-based organization that provides unique long term care solutions, is proud to announce the addition of three new workshops to their Spring 2012 VigR Enrichment learning series.
At Friends Life Care, they believe a combination of vitality, independence, growth and resilience (VigR) is required to stave off the effects of chronological aging. That's why they've created this program to help participants understand and improve these four essential factors. With the aid of recent grant monies, the spring VigR Enrichment Workshops are being offered at a very affordable price, making them available to a wide audience.
"We are so pleased to be able to provide this caliber of instructor and content to our community," Friends Life Care President Carol Barbour said. "Last year's participants were extremely satisfied and left clamoring for more…this spring's line up will surely fill to capacity very quickly."
The Spring 2012 workshops:

Finding Inner Peace Through Yoga (new for Spring 2012)
This active six-session workshop includes discussion of the five pathways of yoga, a gentle practice of asanas (postures) and experimentation with a different meditative technique each week.
Navigating Transitions in the Second Half of Life
In four sessions, this engaging program takes participants through a series of practical activities to help them choose how to live meaningfully in the next stage of life. The end result: increased clarity about the path ahead and greater focus on the next steps.
What's Cooking? Nutrition Served Up Right
In this popular interactive workshop, a registered dietician and a chef help participants make informed food choices based on sound science. Topics include understanding terms and trends, weight shifting, nutrition supplements and disease prevention. In each of the four sessions, Chef Schaeffer cooks up a palate-pleasing dish based on Flavia Herzog's nutritional advice, and dinner is served.
Exercise: A Prescription for Vitality
This active six-week program teaches participants about the nature of movement and provides pain-free ways to exercise and strengthen the body. Each 90-minute session covers issues of fitness and aging, and also serves as an exercise class. Participants will leave this workshop with a personal exercise routine specific to their fitness level and an exclusive DVD with all course exercises demonstrated by the instructor. Among previous participants, 90% demonstrated improvement in eight specific areas of strength and endurance.
Improving Sleep for Better Health
This three-session workshop introduces the science of sleep and helps participants better understand the relationship between sleep, health and longevity. The instructor provides techniques for maximizing sleep, separates truth from myth, and helps participants recognize and manage common sleep issues. Participants keep a sleep diary and answer a questionnaire, then receive a detailed interpretation of their personal sleep habits at the end of the program.
Creating Emotional Balance: The Power of Perception (new for spring 2012)
During this 90-minute session participants will learn strategies for harnessing thoughts to create a calmer, more relaxed state of mind. It may be surprising how much control people actually have over their emotions and how the techniques in this workshop can help more effectively manage the stress in life.
Soup's Up With Chef Seamus (new for Spring 2012)
In this 90-minute workshop, Chef Seamus teaches participants the fundamentals of soup and stock preparation, how to shop for ingredients, and how prepare a flavorful vegetable soup. Participants also learn about the basics of healthy nutrition, cooking equipment and methods of presentation, and share in a nourishing lunch of the soup prepared during class.
The Healthy Brain: Maintaining Mental Skills
This interactive 90-minute workshop offers easily understandable science-based guidance on what it takes to improve mental acuity and maintain a healthy brain throughout life.
In addition to the in-person workshops, Friends Life Care offers the VigR eMeetinghouse, an online community for VigR participants and anyone interested in the program's life-enhancing insights. Participants also receive a take-home binder for each workshop. For more information about the VigR program visit http://friendslifecare.org/images/VigR_Catalog_Spring2012.pdf.
About Friends Life Care
Unique among long-term-care program providers, Friends Life Care provides an appealing alternative for Pennsylvania and Delaware area baby boomers and seniors. Members of Friends Life Care have access to comprehensive support, enabling them to protect their finances, and to remain independent in their own homes as they age. Membership is affordable and customizable, and it offers alternatives or supplements to traditional long-term care insurance. Friends Life Care, a nonprofit Quaker organization, has been proudly serving and supporting its members for over 20 years.