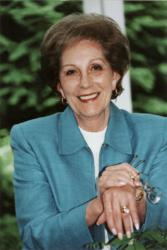 St. Louis, MO (PRWEB) March 15, 2012
The St. Louis County Library Foundation and Pudd'nHead Books are pleased to present Ann B. Ross, popular author of the Miss Julia humorous suspense series. Ms. Ross will discuss and sign her latest novel "Miss Julia to the Rescue" on Thursday, April 12 at 7:00 p.m. at Library Headquarters, 1640 S. Lindbergh Blvd.
The program is free and open to the public. Books will be available for purchase at the event from Pudd'nHead Books.
The South's most loveable sleuth is back in "Miss Julia to the Rescue," the latest caper from bestselling author Ann B. Ross. Just in time for Mother's Day and those summer beach bags, "Miss Julia to the Rescue" is sure to delight with witty dialogue, a feisty, good-hearted heroine who is full of foibles, and hilarious shenanigans.
It's nearly summertime in the town of Abbotsville, and Miss Julia, feeling a bit stir-crazy, decides to finally begin the long-postponed project of redecorating her house. But before she can even study the blueprints, she gets news that Hazel Marie's private-eye husband, J.D. Pickens, has turned up in a West Virginia hospital, shot in the butt and unable to walk, and county cops are refusing to release him. Soon Miss Julia is off to the back roads of West Virginia to help J.D. escape from the sheriff's clutches.
Meanwhile, Agnes Whitman, a wealthy (but odd) woman returns to town, complete with tattoos, toe rings, and a following of strange misfits, and rumor has it that she's brought with her a religious cult and plans to convert the whole town. And that's just the start of the story...
Before Miss Julia has time to hang a curtain or settle on a new shade of paint for the bathroom, she finds herself caught up in yet another whirlwind of hilarity and mystery.
Ann B. Ross holds a doctorate in English from the University of North Carolina Chapel Hill and has taught literature at the University of North Carolina at Asheville. She is the author of twelve previous novels featuring the popular southern heroine Miss Julia. For more information please visit http://www.missjulia.com
Program sites are accessible. Upon two weeks notice, accommodations will be made
for persons with disabilities. Contact St. Louis County Library by phone 314-994-3300 or visit http://www.slcl.org.