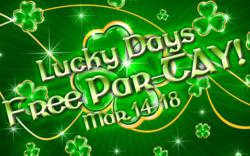 The event brings together some truly exciting titles, not just from our catalogue, but from dozens of great independent authors who we are proud to be associated with.
New York, NY (PRWEB) March 15, 2012
Readers everywhere can now obtain a vast majority of the books published by Curiosity Quills Press - and over 40 over other titles, as part of the Lucky Days Free Par-TAY! event hosted by Indie Book Collective. The massive event spans genres like Science Fiction, Urban Fantasy, Romance, Horror, Thrillers, and Historical fiction, and will continue through Sunday, March 18, 2012.
The list of Curiosity Quills Press titles participating in the event include:
1) Shadow of a Dead Star, by Michael Shean: A dark cyberpunk noir set in a dystopian Seatle of the future.
"As an agent of the Industrial Security Bureau, it is Thomas Walken's duty to keep the city of Seattle free of black-market technology. But when a trio of living sex-dolls he has recently intercepted are stolen from custody, Walken finds himself seeking a great deal more than just contraband. He will be forced to use his skills and preternatural instincts to try and keep his career, his freedom, and his life."
2) The God Particle, by Rod Kierkegaard, Jr.: An action-packed sci-fi technothriller filled with mysterious murders, disappearances, and strange technology.
"Ricardo Alomar's four best friends are discovered dead at the launch of their high-tech start-up company. The police can find no cause for their mysterious deaths, but as their bodies start disappearing from the morgue, Ricardo is drawn into the investigation of his friends' strange behavior and their even stranger invention: A kind of time-displacement generator utilizing the Higgs boson — the so-called 'God Particle.'"
3) The Department of Magic, by Rod Kierkegaard, Jr.: An urban fantasy romp through the mythical Department of Magic, and the paranormal challenges it deals with.
"Magic is nothing like it seems in children's books. It's dark and bloody and sexual – and requires its own semi-mythical branch of the US Federal Government to safeguard citizens against everpresent supernatural threats. Join Jasmine Farah and Rocco di Angelo – a pair of wet-behind-the-ears recruits of The Department of Magic – on a nightmare gallop through a world of ghosts, spooks, vampires, and demons, and the minions of South American and Voodoo gods hell-bent on destroying all humanity in the year 2012. With a magical cast of characters and a wry insider's view of the US Federal Government, here at last is a Harry Potter for grownups."
4) The Zona, by Nathan L. Yocum: A post-apocalyptic action-adventure in a dystopian America ruled by a cruel theocracy.
"The Storms came, and with them disease and blight like mankind had never experienced. Most died. Those who survived were quick to scramble for weapons, wealth, and control. Petty lords gave way to new societies. From the ashes of old came the Reformed Arizona Theocracy, or simply put, the Zona. Their laws are simple, all sins are punished swiftly and violently. The enforcers, known as Preachers, roam the lands hunting disgraced men and women. But what happens when Preachers stop killing? What happens when men of honor take a stand against their rulers?"
5) Worlds Burn Through, by Vicki Keire: An urban fantasy action-adventure aimed at the upper YA crowd.
"Chloe Burke has nightmares of a world burned to ash and the strange boy who saves them both. Underneath the dreams lurks a deeply buried reality; Chloe and a handful of others are survivors of a decade old apocalypse that burned their home world to the ground. Now their ancient enemies hunt them again. To keep their adopted world safe, Chloe must undergo a ritual of blood sacrifice that will have life-long consequences if she survives. Her lethal protector, Eliot Gray, must keep her alive long enough to do it. Together they will uncover even more dangerous secrets buried in the past's deepest, darkest ashes."
6) Shadowed Ground, by Vicki Keire: The exciting urban fantasy sequel to Worlds Burn Through.
"Chloe Burke has only two choices left: run or fight. As she wakes from a poisoned sleep with silver scars across her back, her aunt's diary may provide the only clues about the creatures of fire that hunt her. Separated from her last living relative and the only home she has ever known, Chloe must rely on the deadly Eliot Gray to guide her through the strange world she suddenly finds herself inhabiting. It's a world where the Abandoned wear human bodies like cheap suits, where the Landing finds itself threatened by its nearest neighbors, and Chloe and Eliot must watch their every move."
7) The Stein & Candle Detective Agency, Vol. 1, by Michael Panush: A "zombie noir" anthology filled with gritty supernatural cases in an urban fantasy rendition of the American 1950's.
"Morton Candle is a hardboiled ex-paratrooper just back from storming across Europe. Weatherby Stein is a fourteen-year-old boy genius and scion to the greatest occult family in Europe. Together, they form the Stein and Candle Detective Agency – ready to take the weirdest jobs in the Freewheeling Fifties. This pair of paranormal gumshoes has the brains and brawn needed to take on monsters, madmen and magic –all to close a case. From a vampire's decaying mansion to the mob-controlled streets of Havana, they'll take on roadside attractions gone wrong, hordes of the living dead, and ride against the Devil in a high speed car race to the death."
Needless to say, Kindle book lovers are quick to snatch up these exciting freebies - Curiosity Quills Press reports that several of its titles have already made it into the Top 100 Free Kindle Books on Amazon.
"We're excited to see such an enthusiastic response from our readers," reports Eugene Teplitsky, co-owner of the indie publishing house. "The event brings together some truly exciting titles, not just from our catalogue, but from dozens of great independent authors who we are proud to be associated with."
After March 18, 2012, the titles will be priced at $0.99 for a special promotional period, after which they will revert back to their normal prices. Readers looking for some great free kindle books should hurry before this event ends.
"There's not a whole lot of time left to download these free books," Mr. Teplitsky reminds us. "Get out there and fill up your Kindle with enough wonderful free fiction to keep you entertained for months to come."
Readers can obtain a full list of participating Curiosity Quills Press titles at:
http://curiosityquills.com/five-lucky-days-of-free-kindle-book-mayhem/
###
About Curiosity Quills Press
Curiosity Quills Press (http://curiosityquills.com), launched its independent publishing imprint in June, 2011 by writers, for writers, out of a common frustration with the state of publishing today. Instead of relying on readers to sift through the so-called "Amazon slush-pile", CQ presents a uniformly top-notch level of quality, tastefully curated, hard-hitting storylines, and memorable characters readers won't forget amidst their Kindle downloading sprees.
We know it's hard to stand out from the crowd when it's millions large, but Curiosity Quills Press helps level the playing field through its members' innovative social media approach, a transparent culture, and a deeply passionate team.