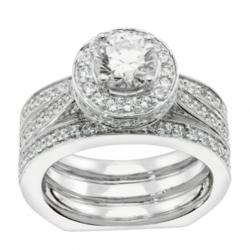 What Diamond Nexus creates is eco-friendly and still amazingly beautiful
(PRWEB) March 16, 2012
Diamond Nexus has a long relationship with the Miss Universe Organization, through which the Miss Teen USA pageant is also sponsored. They have been the official crown-makers since 2009, becoming the first eco-friendly jewelers in the Miss Universe Organization's history.
Making the crowns for the Miss Universe, Miss USA and Miss Teen USA pageants has created awareness in lab created diamond simulants. "Without sacrificing quality, these crowns showcase the incredible talents of our designers. What Diamond Nexus creates is eco-friendly and still amazingly beautiful," explained Jason Czarnik, Art Director.
Danielle Doty, who hails from Texas, was crowned Miss Teen USA 2011 on July 16, 2011. Diamond Nexus made her crown using almost 900 diamond simulants and weighs a total of 246.37 carats. It contains 392.40 grams of 14K and 18K white gold as well as platinum. The crown includes delicate arches and interlocking circles to symbolize friendship, grace and strength.
Miss Teen USA will be making her appearance during the fashion show with Diamond Nexus. She will also be available for autographs with the fashion show attendees.
Tickets can be purchased through Akira at one of their retail locations on online at this link, http://www.shopakira.com/brands/AKIRA-EVENTS.html Proceeds from Valley of the Castles will benefit Lyric Opera's Lyric Young Professionals. General admission tickets are $30 and VIP tickets are $100 for the event.
Diamond Nexus was founded in 2004 with the purpose of bringing to the public the powerful benefits of the lab-created diamond simulant revolution. They have over 250,000 customers worldwide that have awarded them an "A+" rating with the BBB, and are the ninth largest online jewelry retailer in America according to the 2011 IR500 list. For two years in a row brides from The Knot have selected them as their Best of Jeweler. Diamond Nexus currently has two retail locations: their flagship store at Woodfield Mall in suburban Chicago, Illinois, and a second store at Mayfair Mall in Milwaukee, Wisconsin. In 2009 the company was named the official jeweler and crown maker of the Miss Universe Organization as part of NBC/Universal's "Green is Universal" environmental initiative.